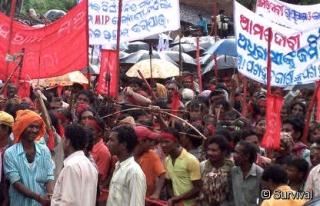 From Survival International – On the 12th of October the UK government blasted FTSE-100 company Vedanta Resources over its treatment of the Dongria Kondh tribe in Orissa, India.

The damning verdict came after a nine month investigation into a complaint submitted by Survival International against Vedanta's proposed bauxite mine on the Dongria Kondh's sacred mountain. The complaint, upheld by the government, was brought under the OECD Guidelines on Multinational Enterprises – the key principles for ethical corporate behaviour.
In an unprecedented attack on a major British company, the government ruled that Vedanta, 'did not respect the rights of the Dongria Kondh'; 'did not consider the impact of the construction of the mine on the [tribe's] rights'; and 'failed to put in place an adequate and timely consultation mechanism'. Devastatingly, it concluded, 'A change in the company's behaviour' is 'essential'.
Astonishingly, despite repeated requests from the UK government, the company 'failed to provide any evidence during the examination'. This is the only time a company has refused to participate in an OECD investigation.
Read More