From our friends at Foil Vedanta:
Join us at the eighth annual AGM protest: 28 August 2012 2.00 pm, Lincoln Centre, 18 Lincoln's Inn Fields, London WC2A 3ED. Nearest tube Holborn (Piccadilly & Central lines) or Chancery Lane (Central).
We are also calling out for a global day of action. Please show your solidarity with movements across India and Africa fighting this devastating company. Email your pictures or statements to savingiceland (at) riseup.net.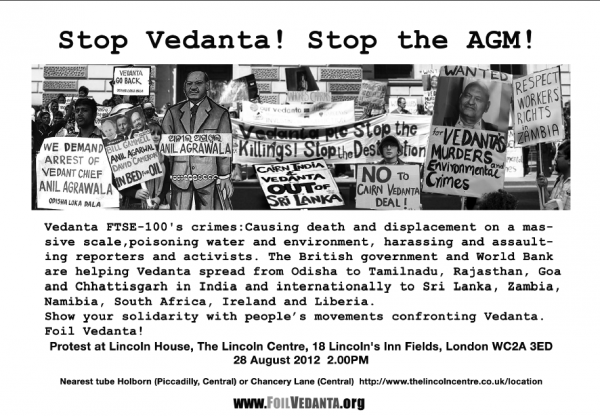 Why Peoples' Movements are Fighting Vedanta:
Vedanta plc is a London listed FTSE100 company which has brought death and destruction to thousands. It is owned by billionaire Anil Agarwal and his family through companies in various tax havens. It has been consistently fought by people's movements but it is being helped by the British government to evolve into a multi-headed monster and spread across India and round the world, diversifying into iron in Goa, Karnataka and Liberia, Zinc in Rajasthan, Namibia, South Africa and Ireland, copper in Zambia and most recently oil in the ecologically fragile Mannar region in Sri Lanka.