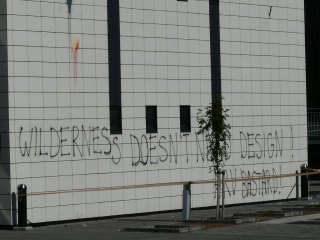 In the night of July 30
th
, HRV's headquarters were attacked because of its part in the destruction of the Icelandic wilderness.
HRV is a company that holds serious responsibility for the destruction of wilderness – not less then the aluminium and energy companies. On its website, the company proudly states that it is "one of the leading project management and consulting engineering companies within the primary aluminium production sector." HRV has taken part in the construction process of Alcoa's, Rio Tinto-Alcan's and Century Aluminum's smelters here in Iceland, as well as the Kárahnjúkar power plant. The company's work of engineering and designing has according to itself "added some 700,000 tpy [ton per year] of primary aluminium production capacity to the world market."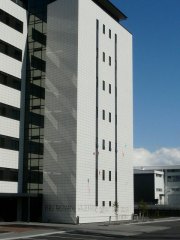 And that is not it, since HRV has also "provided environmental impact assessments (EIA) and environmental monitoring, geothechnical engineering and geology" to the projects. It does not need an scientist to see how heavily corrupt HRV's connection to the aluminium industry is. It would be against HRV's own financial benefits to publish anything else than a highly positive EIA's, since its future jobs are based on the EIA's outcome. The most recent job is Century Aluminum's smelter in Helguvík and HRV makes it clear that "there is more to come."
Dear HRV, how can you check the environmental impact of a new construction that will destroy the wilderness, such as a smelter or a power plant, if you are at the same time being payed for designing it?
The conflict of interest is the heart of capitalistic business, which you show clearly with the paper of lies that you call Environmental Impact Assessment. Congratulation; now it's our turn: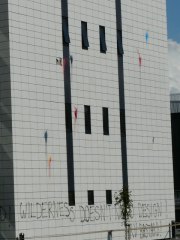 To let our words be listened we tried to be as creative as we could, hoping that someone one day can do even better than us. In the night of the 30
th
of July, we completely changed the design of the building where HRV's offices are located. We splashed a lot of beautifully colored paint bombs so high on the building that one can see it from far far away. And we wrote our message in big black letters on the shining new entrance. Ah!, we also locked the main entrance with super-glue!
For Mother Earth – Against Capitalism.
Solidarity with Saving Iceland!