7th September 2004
Senator Bob Brown will bring his Franklin River experience to help stop a huge dam being built in eastern Iceland.
Announcing in Sydney today Greens backing for the global campaign to stop the Iceland Energy Authority's huge Karahnjukar Dam and the Alcoa smelter it will feed, Senator Brown said the scenario is very similar to Tasmania's Franklin River experience.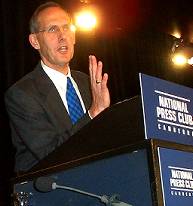 "Karahnjukar will destroy 1000 kilometres of wilderness and wild rivers, home to pink-footed geese, reindeer, harbour seals, rare invertebrates and lush highland vegetation.
"The scheme parallels Tasmania's Franklin River experience, with an island state going after hydro-industrialisation, promising cheap energy and destroying the potential for a clean, green future based on nature, landscape and wildness.
Senator Brown also attacked the international aluminium company involved, Alcoa, for its hypocrisy in opposing Australia's ratification of the Kyoto Treaty whilst claiming hydro power will reduce greenhouse gas emissions.
"Big dams like Karahnjukar release huge amounts of greenhouse gases from rotting vegetation," he said.
"The presentation by Iceland's National Energy Authority at the World Energy Congress today is titled 'sustainable generation'. They and Alcoa need to explain how destruction of wilderness and wildlife is sustainable.
"Alcoa is a company that likes to present a 'green' image. If it is truly committed to a sustainable future then it must change its policy on Kyoto and withdraw from the Karahnjukar dam project," Senator Brown said.
The project involves construction of the 690 megawatt Karahnjukar Power Station by Iceland's National Energy Authority to provide energy for Alcoa's Fjardaal primary aluminum smelter. The company claims the Fjardaal smelter will be, "the most environmentally friendly aluminum production facility in the world." Construction on Fjardaal will begin in 2005 and the plant is scheduled to start production in 2007.
Alcoa is the world's leading producer of primary aluminum, fabricated aluminum and alumina.