Resources
Here you can find downloadable / printable files (mostly as pdf, if you can't read it, download Acrobat) and other resources for action. The Resources section was last reviewed in 2019.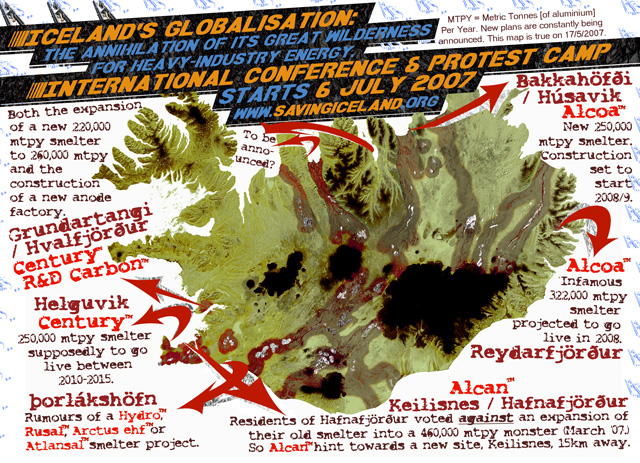 'Voices of the Wilderness' Saving Iceland's camp and conference magazine. The magazine contains articles on the struggles in Narmada, South Brazil, Kashipur, Trinidad, a sermon by Reverend Billy who will preside the conference, a detailed description of the consequences of aluminium production in the extensive article Double Death by Felix Padel and Samerendra Das, an abstract of Eric Duchemin's presentation of the effects of megahydro on climate, and a range of general information on the Saving Iceland camp and conference.
Other Saving Iceland Resources:
*ESSENTIAL* – NEGATIVE ASPECTS OF GEOTHERMAL POWER GENERATION
*ESSENTIAL* – NEGATIVE EFFECTS OF LARGE DAMS
Saving Iceland European Targets Brochure – Your Guide to Smashing the Aluminium Industry in Europe – Includes: Maps, photos, names and addresses
A 2008 Update to the European Targets Brochure
Security
Tor – program to download for anonymous web-surfing (not for strong anonymity)
Direct Action Guides
Ecodefence: A Field Guide to Monkeywrenching
Act Up – Civil Disobedience Manual
ActUpny.org – Civil Disobedience Documents
Information about the aluminium industry
Frumvinnsla áls – Lýsing á hinni mengandi og orkufreku framleiðslu álbarra. Þýtt úr : 'Foiling the Aluminum Industryï'
IRN Aluminium toolkit – Foiling the Aluminum Industry: A Toolkit for Communities, Activists, Consumers, and Workers
Behind the Shining: Aluminum's Dark Side
Jamaica Bauxite Environmental Organization – Excellent video section showing the horrors of the mining of bauxite…
Scanned articles on the damming and industrialisation of Iceland.
We also host a lot more articles to read – click the 'Articles' tab and 'Destroyed Areas' (articles specially about Karahnjukar).
'Power Driven' magazine version in PDF- One of the best English language articles written about Kárahnjúkar. Published in the British newspaper The Guardian
'Power Driven' online version in PDF
Il paradiso non puo attendere – La Repubblica delle Donne pdf. Italian translation of Guardian article. p.96
Dutch translation of Guardian article
Ice Burks! – SchNews article – Serves as an excellent follow up to the Guardian article
Sue Doughty's answer to Mitchell's "amendment" to her Early Day Motion which Icelandic media tried to suppress!
Damned Nation – The Ecologist – Very good on the spiel behind the Kárahnjúkar dams and ALCOA
Skýrsla vegna Urriðafossvirkjunar – Dr. Ragnhildur Sigurðardóttir
Kárahnjúkar leaflet (short) – International Rivers Network (IRN) & Friends of the Earth International
A Project on Thin Ice – Factual analysis of Karahnjukar dam-project by IRN (more substantial than the IRN & FEI leaflet)
Analysis of Barclays' loan to the Karahnjukar dam-project from IRN and Friends of the Earth
Economic analysis of mega projects
Photos
Photos from the land that was destroyed by the dams at Kárahnjúkar
Powerpoint show of some of the areas endangered by the aluminium industry
Films – See also the 'Films & Slideshows' to the left
Saving Iceland video interview for Undercurrents Large file, be patient!
Beautiful slideshow of the Jokulsa a Bru in all its living wonder, Kárahnjúkar and Töfrafoss in August 2006, just before the inundation. Photos by Christopher Lund. Music by Damien Rice.
Slideshow compiled from Ómar Ragnarsson's photographs of the flooding of Halslón. Strange choice of soundtrack
Dramatic interpretation of the Trinidadian smelters
Killing Iceland: The Original Movie! (Clay animation)
Jamaica Bauxite Environmental Organization – Excellent video section showing the horrors of the mining of bauxite…
Audio
Saving Iceland interview on Radio IndyMedia.org – Dublin, March 2006
SI interview on Radio IndyMedia.org – April 2005
SI interview on Blackbox Radio US – May 2005
Governmental documents and reports
Conclusion of the Environmental Impact Assessment of the Kárahnjúkar project – The Icelandic National Planning Agency
Biological Diversity in Iceland – National Report to the Convention on Biological Diversity
Other
Free online Icelandic teacher!
Old Resources
Tólf alhæfingar um beinar aðgerðir leiðréttar – Bæklingur í pdf – Andspyrna útgáfa – www.andspyrna.org
2006 Íslandsvinir Pamphlet – Bæklingur í pdf
Flyer for 2007 Camp and Conference in pdf
2006 Saving Iceland Pamphlet – English
2006 Saving Iceland Pamphlet – Castellano
2006 Saving Iceland Pamphlet – Italiano
2006 Saving Iceland Pamphlet – Dutch
2006 Saving Iceland Poster in A3
2006 Saving Iceland Poster in A4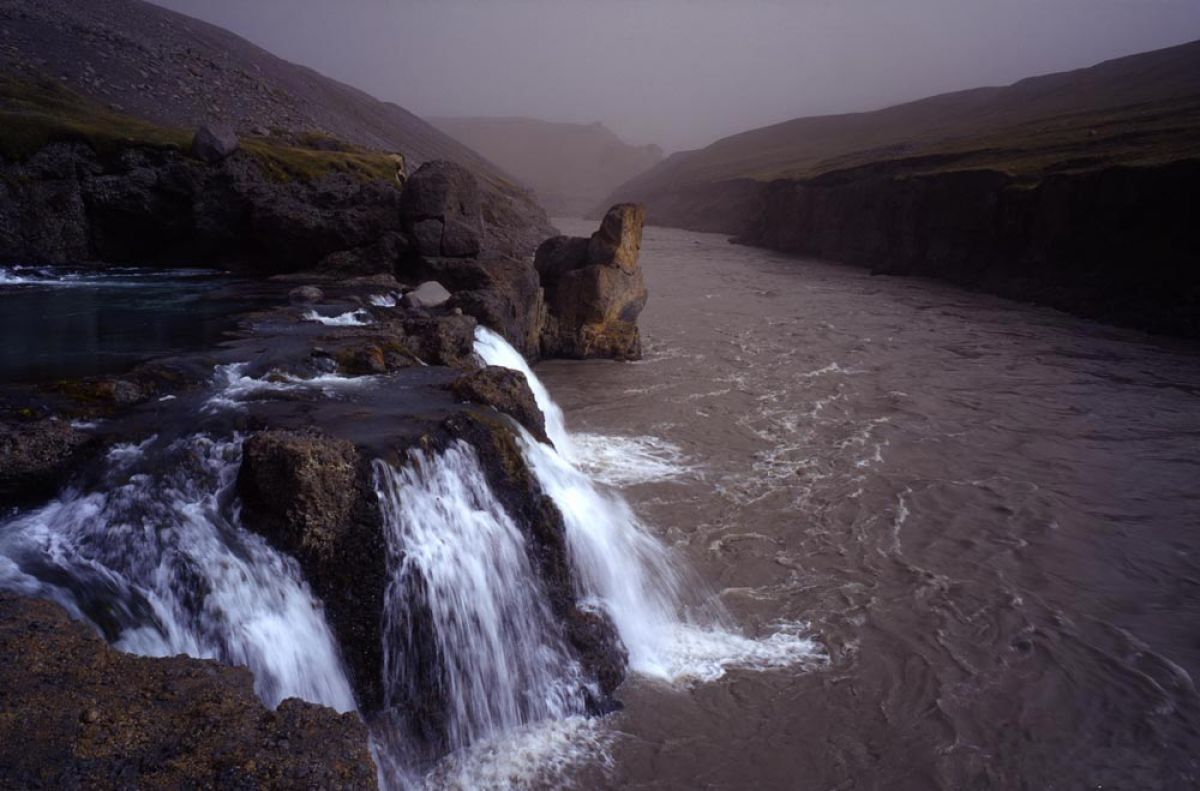 One Response to "Resources"