S.O.S.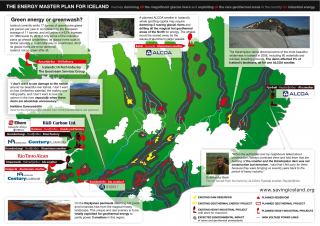 HELP! NATURE UNDER ATTACK!
STOP DESTRUCTION OF ICELAND!
Stop the Icelandic government and arms manufacturers Alcoa, Rio Tinto Alcan and Century Aluminum destroying Europe's largest remaining wilderness for aluminium plants! Stop the so-called 'master plan' to 'develop' Iceland's beautiful nature into a heavy industry hell servicing the greed of aluminium corporations! It has already started. A whole world has been drowned in the eastern Icelandic highlands. But the Kárahnjúkar dam project is only the beginning of a much wider destruction. These multinational vandals – willingly helped by the Icelandic government – are about to produce an environmental catastrophe of unprecedented proportions. It is not too late to stop all the other energy projects that are in the pipeline and drive heavy industry out of Iceland!
Saving Iceland
Saving Iceland is an international campaign to defend the Icelandic Wilderness, the largest remaining wild area of Europe, from heavy industry. Different transnational companies, particularly the aluminium industry, and the Icelandic government have begun to implement an immense program that will, if executed, transform the country from an outstanding area of natural beauty into another heavily industrialised and polluted area.
Plans include the constructing of new smelters and expansion of existing ones, the harnessing of many of the countryï's major glacial river systems and destruction of supreme geological geyser landscapes and unique geothermal biosystems for new power plants.
Corporations searching for cheap energy
Iceland, with its vast possibilities of hydroelectric and geothermal energy, is an appealing target for ALCOA, ALCAN, Century Aluminum and others, for two reasons. First is increasing energy insecurity and dependence and increased cost of utilising fossil fuels; second is the increasing concern about climate issues, where the green image of hydroelectric and geothermal energy is appealing. Also, Iceland has a comfortable amount of yet unspent carbon credits and the pollution prevention schemes are milder for the corporations. But Icelandic aluminium smelters will far exceed the 1,600,000 tonnes of emissions permitted under the Kyoto Convention if all of the planned smelter projects materialise. Aluminium contributes heavily to climate change, due to emission of large amounts of carbon dioxide and perfluorocarbons: potent, extremely persistent greenhouse agents, released in the electrolytic processing of bauxite.
Destruction of ecosystems
The ecological consequences of large dams are also grim. They include significant and irreversible loss of species, terrestrial and aquatic ecosystems. The massive alteration of major river systems around the world has led to more than a third of the species of sweet water fish to be extinct or endangered. The constantly fluctuating water levels in reservoirs in Iceland will cause dust storms and soil erosion, which will have a devastating effect on the vegetation of the region. It is estimated that up to 3000sq km will be affected by the dams at Kárahnjúkar alone.
Moreover, starving the marine life of the normal silt emissions would constitute a serious threat to the valuable Icelandic fishing grounds. A recent study shows that free flowing glacial rivers are vital in reducing greenhouse gasses in the atmosphere by providing nutrients to plankton and as such are already harnessed by nature. Blocking the silt emissions to the ocean nullifies this immensely beneficial role of glacial rivers.
Protests
Icelandic environmentalists are prepared for a battle that is certain to go on for many years. International help and pressure will be of paramount importance in that fight.
Summer solstice in 2005 saw the first international protest camp at Kárahnjúkar which marked the beginning of a highly inspirational and unique event in the history of Icelandic activism. The international protest camps last year (2006) at Snæfell, Lindur and Reyðarfjörður attracted people from 18 different nationalities. Best of all, summer 2006 saw many more Icelanders join the protests. We find that the camps and the direct actions of the last two summers have had a profound effect on Icelandic society by giving people the courage to make their voices heard after years of a repressive political atmosphere.
One of many effects the protests have had on the Icelandic nation is that people are now actually daring to change their minds about the dams. The protests have managed to get the heavy industry issue and its consequences back into focus. Many people working in the financial sector have now raised their voices against the projects, pointing out that the aluminium industry adds very little to the Icelandic economy. We have managed to create a fresh new focus and dialogue in Icelandic society about heavy industry.
Iceland is the last great expanse of truly unspoilt and magical wilderness left in Europe. It should really be a cause for celebration and wonder how pristine this strangely vibrant island still remains. The world cannot afford to allow beautiful Iceland to be devastated by corporate greed.
22 Responses to "S.O.S."