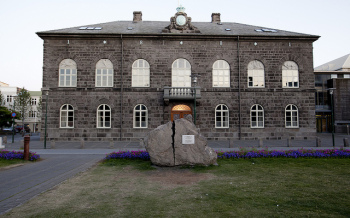 Árni Daníel Júlíusson
Iceland's recent general election shows that the country's neoliberal consensus is over. What happens next?
When the Icelandic parliament assembled in fall of 2010, tens of thousands gathered to throw eggs and rotten tomatoes at the politicians. The MPs were participating in a traditional march between the cathedral and the parliament building that marks the beginning of each legislative setting. Protesters repeated their performance exactly a year later, now with an even larger crowd.
These events marked the midpoint of Iceland's anti-neoliberal rebellion, which had started in the fall of 2008 at the time of the financial collapse. The mass actions represented a definitive break with the neoliberal consensus the country had sustained since 1984. Read More