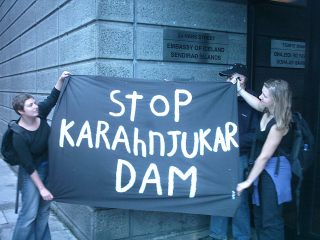 Saving Iceland, London, 26 November 2004
Eleven courageous British activists visited the Icelandic embassy to voice their outrage at the building of the Kárahnjúkar dams.
One activist persuaded the secretary to open the "security" door, and while 4 others charged in, another locked herself by the neck to the main door with a D-lock. Three of the four inside the embassy were almost immediately arrested, and the fire brigade used bolt croppers to release the woman on the front door (she too was arrested). Police and staff thought they had cleared the building of intruders, until post-it notes started to appear on a window spelling out 'NO DAM'. Investigating, they found that an activist had locked and barricaded himself inside an office. The fire brigade were asked to break in, at which point the activist came out willingly and was arrested, as were the others, for "trespassing on diplomatic premises". The 5 were held overnight.
IndyMediaUK
http://www.indymedia.org.uk/en/2004/12/302178.html