Corporate Watch
Newsletter 25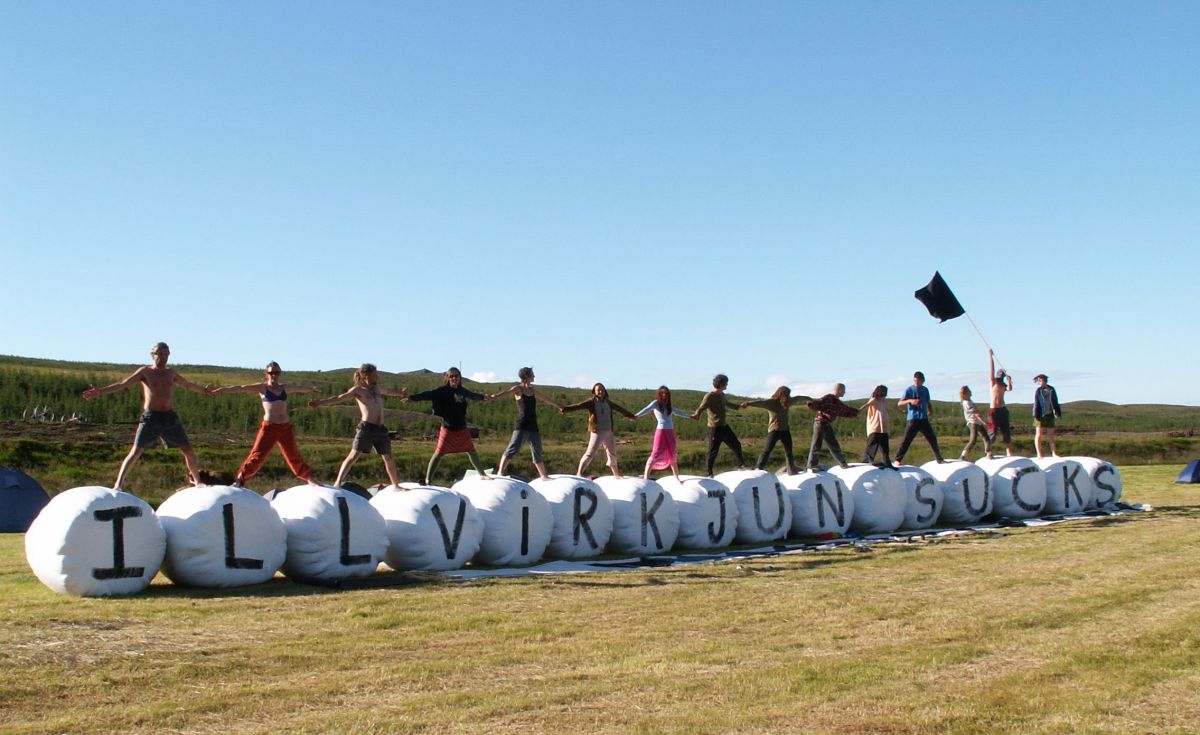 Direct action against the Karahnjukar hydro-electric dam project in Iceland has started in earnest. The dam will devastate Western Europe's last pristine wilderness, solely to power an Alcoa aluminium smelter (see Corporate Watch number 23, April May 2005, page 9)
In June, three activists invaded the 10th World Aluminium Conference, Reykjavik, covering speakers from Alcoa and Bechtel (who are building the smelter) in green yoghurt during their talk on 'sustainable' aluminium. All three were charged with causing up to £50,000 of damage. British activist Paul Gill was held for four days. With the construction of the dam now more than half complete, an international protest camp has been set up near to the site. Over 30 people have gathered to organise direct action against the continuing devastation of global ecology in the interest of corporate profits. The 19th July saw Iceland's first ever lock on blockade, when 25 activists shut down the site for three hours, locking on to a Caterpillar construction vehicle and a pick up truck at the main junction in the site and blocking two other access roads. Fifteen were arrested and later released without charge. Impreglio, the Italian construction firm building the dam, threatened to take civil charges against the activists but has since backtracked. Experts concur that 90% of the irreversible environmental damage will be done only when the water floods the land, so its not too late to protect Iceland's ecology, and with Smyril Line offering a round trip on the ferry for £49 from Shetland, what better place is there to spend the rest of your summer?
ANARCHY IN ICELAND
Iceland was under attack. Violent international protestors were arriving on its shores, fresh from the G8 and bent on futher destruction. The Icelandic police were calling for the urgent tightening of border controls. Laws had just been passed allowing foreigners to have their phones tapped, their houses searched, and their possessions confiscated, all without warrants. News presenters were emitting warning gouts of Icelandic, spattered with the word 'Anarkisti!', alongside blown-up images of figures in IRA balaclavas. There was muttered talk, on all sides, of terrorism.
It was this climate which has just seen Icelandic police deliberately endanger the lives of peaceful protestors, as well as sexually assaulting a young woman, according to the most recent report from Iceland. People had started arriving in the country at the end of June, after pleas from beleagured Icelandic environmentalists, who had called for an international protest camp after all attempts to stop a series of dam building projects in Iceland had failed. The international camp had been supported in the UK parliament by an Early Day Motion sponsored by Liberal Democrat Sue Doughty, and signed by 29 British MP's. By the middle of July around forty people, from countries as diverse as Spain, Canada, Germany, Poland and the UK, had arrived in Iceland in response.
For some time, the Icelandic people had been aware of a government plan to dam all of Iceland's glacial rivers, and sell the resulting energy to new aluminium smelters, owned by multinational corporations like Alcoa and Alcan. Based on past experience, rather than promises, this meant that, in a matter of years, not only would much of the previously protected highlands would be under water; the glacial rivers would be silted and barren, and Iceland, 'pure, natural, unspoilt Iceland', as it says in the tourist advertisements, would be pullulating with toxic heavy industry.
A peaceful, nature-loving people, the Icelanders had apparently done their best to rewrite this dystopian script. Demonstrations were held. A Gallup poll showed the majority were against more heavy industry. Nationally respected artists mounted campaigns against the plan. Bjork's mother went on hunger strike. Icelandic scientists spoke out about its devastating environmental and social impact, "but they changed my report, sacked me, and after that, I couldn't get another job" said a scientist with three masters' degrees, two of them from Yale. The Icelandic Environmental Agency refused to condone it. The government's sale of the National Bank to finance the project was revealed to be highly questionable. In an unguarded moment, the Icelandic minister for Industry and Commerce referred to Iceland as 'heavy industry's best kept secret'. The government refused to disclose how much they were charging the aluminium corporations for the energy, Meanwhile, workers were reporting that ten men were employed just to replant the trees around an existing aluminium smelter, because they died in the space of two weeks.
But still the plan went ahead. And the massive bones of the Karahnjukar dam, the one which will flood most of Iceland's Grand Canyon, began to blown out of the mountains of the Eastern Highlands.
"And that's where they're building the dam" the Norfolk students had said, unnecessarily, after the jeep had puttered out of Egillstadir, the dam's nearest town, over the huge glacial river, past the slopes of Snaefell, Iceland's most mythical mountain, and across the moors. Bulldozers moved busily around the huge pit, dynamite exploded, stone gouted smoke, and rock-faces fell, at the hands of workers imported from China, Pakistan, Chile, Poland and Portugal, on six months contracts, working day and night in shifts, with no social life, no alchohol, no trips home and no remission. Icelandic people had overwhelmingly refused to accept work in the dam, despite it being touted as a solution to local unemployment. It was being built on a geothermal fault, and the main contractor was under investigation for fraud and corruption, but nothing was going to stop construction. "It is hell" one Portuguese man had confided.
Dwarfed by the project, the protest camp sat in a small hollow, across from the site's main road. Around it was a wild, vast, bilberried swathe of landscape, populated by reindeer, waterfalls, geothermal springs and the faintly ridiculous sounding pink-footed goose, as well as eagles. The camp itself was small, and jaunty, with flowery tents, a central marquee, and ecological toilets, which had been built by a sympathetic local farmer. And it contained a range of nationalities which almost matched the dam's Italian contractor, Impregilo, for variety of choice.
Whether they came from Spain, Poland, Canada, the States, Austria, Wales, or Brighton, they were mainly young, and so nice that you suspected this must be part of the job description. "Wanted! Extremely decent young people! Must be tolerant, communicative, open, helpful, honest, and able to cook up vegan pizza from stale bread and other random stuff removed from a supermarket skip", perhaps. You could have added 'non-violent', but it was obviously unnecessary; none of these people had it in them to hurt a rabbit.
The camp's resident artist was a shy German sculptress, who, every morning, would don goggles and lug enormous quantities of material around; after which she would descend to the banks of the wide grey glacial river, where she would do something she described as 'fixing the landscape'. You could see the river bank from the open-fronted ecological toilets, and, watching her earnest endeavours from your throne, as a waterfall rushed beautifully down the mountain behind her, it was hard not to be grateful to her for fixing the landscape. Somebody, you felt, had to.
"What are you doing here? Don't you know it's pointless? It's too late! The dam's going ahead, and that's all there is to it!"
The Icelandic visitor looked cross, and cold. She was standing in front of the camp, arms akimbo; a faded black flag, with A! I! E! sprayed in wobbly white paint on the front, floating beside her. It belonged to a young man from New York who had not, he explained with some dignity, just run out of vowels. A stood for anarchy. I stood for in. E stood for Europe, or perhaps ecology. He was a nice, helpful young man, and an extremely good cook, "but I am a little worried about his flag" the German sculptress had confided earlier. "I think the flag might put people off". In modern times, it is true, the mere mention of the word 'anarchy' can cause it, but the visitor did not even seem to notice.
"And you've come from all over the world?" she said.
It was not, someone explained, just this dam. If they made a stand here, they could stop all the other dams, which were scheduled to destroy even more of Iceland's protected, vital wildernesses. Did she know, for example, how much wildlife and how many natural resources were going to be destroyed by this one alone?
"Wildlife looks after itself" the visitor replied. "It will make a nice lake for the boating" she added, rather uncertainly.
A flood of statistics greeted this assertion. What about the reindeer, who were going to lose their wintering grounds? The nesting eagles? The endangered pink-footed geese? The visitor smirked, which was one of the dangers of citing the pink-footed geese. What about the pollution? This dam was only being built to service an aluminium factory, as all the others would be.
The visitor was in the process of further dismissing the pink-footed geese with a mean little shrug. She was a large, comfortable woman: it did not look like one of her natural gestures. At any rate, with the mention of pollution, she stopped.
"I do not know about that" she said.
But you must, someone persisted, gently. You must know the track record of Alcoa, for example?
"No" the visitor said. No, she did not think about that.
And that is the problem in Iceland, in a nutshell. People are not thinking. Perhaps the most terrifying aspect of these black balaclava'd militants or, if you prefer, intelligent young people, was that their actions were forcing people to think. They had squirted some corporate aluminium executives with green yoghurt. They had cut up some dam publicity leaflets, after asking if they could have the leaflets first. They had achieved Iceland's first ever lock-on, forcing the police to invent a new word for the process, and bringing the dam works cheerfully to a halt for almost three hours. They were 'very nice' said police, at the time. Some protestors were held for a few hours, after which they were all released, without charges.
But with, their second lock-on, someone had obviously decided that they were being too successful in provoking closer examination of the projects. As they sat chained, beneath the bulldozers, the police arrived and instructed the workers to start their vehicles, with people still attached. A protestor had to jump onto a bulldozer and pull out the fuel line, otherwise people could have been killed, or severely injured. The protestors were then manhandled, and assaulted. Three of them are now in prison, on fabricated assault charges.
"We have gathered to protest the continuing devastation of global ecology in the interest of corporate profits" said a recent statement from the camp. "We have come here to tip the balance of a struggle portrayed to be national, while actually being much larger. From the Narmada Dams in India, to the proposed Ilisu Dam in Turkey, the story is one of big business and oppressive government. The struggle to save our planet, like the struggle against inhumanity, is global, so we have to be too. We're here to prevent the Kárahnjúkar Dam project from destroying Western Europe's last great wilderness".
The camp continues.
http://www.corporatewatch.org/?lid=1889