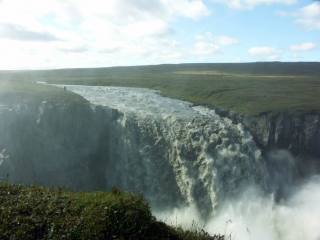 Impregilo have practically finished the construction of the central and biggest of the main Kárahnjúkar dams, and is set to begin the first of the dams three inundations "in the last week of September".
If this is to happen, words cannot describe the devastation of anyone who has ever walked around those prehistoric cliffs, beside that grey and angry river Jökulsá á Brú, into the tumbling land of Kringilsárrani with its countless reindeer, upon the cliffs of its magic waterfall, along the great canyon Hafrahvammagljufur, onto the wild untouched bleak glacier from where the river emerges, through the freedom and towards the dreams that only such a wild land can provoke.
The head of the Pagan religion in Iceland has put an "Aufedersein" on the area to be dammed. Note that isn't a goodbye, but a see you again, because the area that's going be flooded will rise again… Will the dam crack, will there be a glacial surge, a volcanic eruption, an earthquake?
Also, major news from the grassroots in the East of Iceland, finally a letter has been written and signed by many residents in the East to the Icelandic government, criticizing the project. Up until now people in the East have remained anonymous, not wanting to risk losing their jobs or reputations. They are so angry now that such worries have passed.