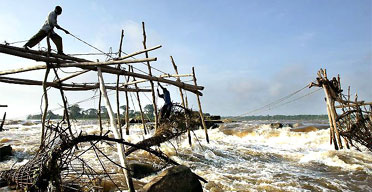 By Jeevan Vasagar , The Guardian, February 25, 2005
One of Africa's biggest electricity companies yesterday unveiled plans to build the world's biggest hydro-electricity plant on a stretch of the Congo River, harnessing enough power for the whole continent.
The proposed plant at the Inga Rapids, near the river's mouth in the western Democratic Republic of Congo, would cost $50bn (£26bn) and could generate some 40,000MW, twice the power of China's Three Gorges dam.
The river is seen as ideal. Known as the "river that swallows all rivers", it is fed by 10,000 streams that funnel into powerful rapids along its 2,900-mile course.
Rather than damming up the river entirely, the plan by South Africa's state-owned power company, Eskom – which has already won over independent experts – involves creating a "run-of-river" plant in which water is siphoned off, channelled through turbines and then fed back into the river.
Such plants are common in Canada, Norway and Switzerland, although their output is much less than that from a dam.
Backers of the Eskom plan, which will also involve building a small dam on the river, claim it could even generate surplus power to sell to southern Europe.
At a press conference in Nairobi yesterday, Reuel Khoza, the Eskom chairman, said: "Only between five and 10% of Africa's population has access to electricity. That we consider lamentable in a continent that is abundant in energy sources.
"The Inga project is one that really excites us because we believe that in one fell swoop we could address the bulk of Africa's needs and do it in a manner that is clean and environmentally friendly, by harnessing run-of-river hydro-electricity as opposed to damming up a river."
But critics say even run-of-river plants can damage the environment, by blocking the migratory path of fish and stalling the flow of silt downstream.
There are also fears that electricity from the project, dubbed "Grand Inga", will simply enrich corporate backers rather than reach Africa's poorest, many of whom live beyond the electricity grids.
The plan also hinges on attracting private investors, who may be cautious about committing large sums of money to one of Africa's most unstable countries.
Congo endured civil war between 1998 and 2002, in which seven neighbouring states were sucked in to back rival factions and fight over the vast country's huge mineral resources.
Despite peace accords and the withdrawal of foreign troops, the conflict has simmered on with minor clashes between militias and rebel groups. Some 3 million people died, mainly from the hunger and disease linked to the conflict.
Though the sums involved are huge, Eskom believes it has enough credibility to secure the $50bn needed from private investors and the World Bank, which has been made aware of the project.
The energy scheme, which is supported by the power utilities of Botswana, Namibia, Angola and Congo, as well as South Africa, will develop two existing plants at the Inga Rapids.
Built in the 1970s and 1980s by the Congo's then dictator Mobutu Sese Seko, Inga 1 and Inga 2 continued to supply power even during the civil war, although they now provide only half their potential due to lack of maintenance.
The plants already provide power to the capital, Kinshasa, and parts of western Congo, and export electricity to Zambia, Zimbabwe and South Africa.
Inga 1 and 2 will undergo a massive revamp and a third power plant – Inga 3 – will be built on the site, which will supply power to Nigeria and other west African states.
Construction work on Grand Inga will not begin until Inga 3 is complete, which could take more than a decade.
When complete, it is hoped Inga will become the cornerstone of a pan-African power grid, linking existing systems from different countries.
A feasibility study by the French utility Electricité de France has indicated that both the Grand Inga scheme, and a plan to supply power from it to north Africa, were viable.
The project's backers hope to build an electricity interconnector from Inga through the Central African Republic and Sudan to Egypt, linking the grids of north and southern Africa.
Although Eskom claims its plan is environmentally friendly, campaigners are worried.
"One big unknown is the effect on fisheries and river ecology," said the World Rainforest Movement, in a report on the project.
"Even run-of-river plants can eliminate fish migrations, and they can badly damage silt flows, which are crucial to river ecology."
The group's report added: "Megaprojects like this … often imply social, economic and environmental disruption of people's livelihoods, lands and life."
Any environmental damage from the project could have a grave impact on subsistence farmers who depend on the flow of sediment downriver to fertilise fields, and to harvest fish to supplement their diets.
Some 526 million people in Africa do not have access to any electricity. Powercuts are common even in the most developed African countries, and in the more remote parts of the continent the sole power source is the diesel-fuelled generator.