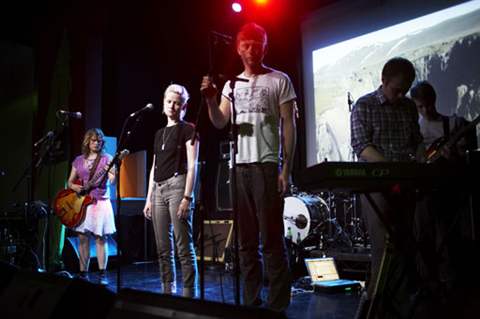 Grapevine.is
Valgerður Þóroddsdóttir
Issue 10, July 13, 2007
Who: Various artists Where: NASA When: July 2, 2007
A barefoot girl with long blonde hair reaching down to her lower back was dancing enthusiastically to the deserving catchy beats of Retro Stefson when I entered NASA on a slow Monday night. In front of and around her people were leisurely sprawled across the floor, many sitting Indian style, patiently watching as the Stefson teens effortlessly spun out their unpretentious, soulful and enchanting pop.
Organised by the campaign group Saving Iceland as a protest and fundraiser against large-scale industrial projects in Iceland, the concert had drawn a crowd and an atmosphere certainly unfamiliar to the nightclub. Giant banners on each side of the dance floor protested Landsvirkjun, the national electric company, and their funding of the Kárahnjúkar hydropower plant under construction in eastern Iceland, a plant that will power an enormous aluminium smelter in Reyðarfjörður.
Bogomil Font and friends took the stage, led by former Sugarcubes member Sigtryggur Baldursson dressed in a white suit and hat that completed his look and sound, as a member of the audience accurately put it, as "that lounge singer." Yet people remained enthused, staring up pensively at the stage where in the background a slideshow of pictures grounded them, quite literally, to the point of the show. Photographs of beautiful and massive Icelandic landscape flashed across the screen, areas that are being destroyed in the eastern highlands by heavy industrialisation and areas targeted for further development in the near future. Rúnar Júl, Skátar, Mr. Silla og Mongoose and Ólöf Arnalds followed. Skátar packed a muchneeded punch, and the crowd began to mosh, in a friendly kind of way. In the back a little blonde kid holding on to his mother's hand was head banging. Mr. Silla og Mongoose brought a change of pace that felt surprisingly natural and as Ólöf Arnalds plucked a sombre song on a ukulele the atmosphere had become so delicate that people felt compelled to tiptoe, if they moved at all.
Andri Snær Magnason, author of bestselling book Draumalandið, a criticism of the government's policy on heavy industry, took the stage after Arnalds and encouraged people to visit a handful of spots in the wilderness that are destined for industrialisation within the next two years. As an English-speaking Saving Iceland coordinator took the mic, the mood became tense. His accurate, though not terribly articulate, description of the goals of the evening was cheered by most but drew various drunken protests from some Icelanders in the crowd.
Evil Madness and Dimma were a low point. Strakovsky Horo, Reykjavík! and Múm followed as the clear highlights of the show, deserving every bit of the by-then-commonplace enthusiasm of the crowd. The anticlimax following the headlining Múm consisted of superficial electro-pop from Velvet Ego and slightly denser synthesized pop from Bloodgroup.
A little past 1 a.m., the young kids involved with the Saving Iceland project watched the random assortment of patrons leave. They seemed triumphant, full of idealism and eager to pass it on. Perhaps it was a little contagious.