| | |
| --- | --- |
| Motivated by other actions that have taken place all over Europe against heavy industry and by the inspiring presentations of Saving Iceland made by Icelandic activists this winter in Switzerland, we organised a demonstration, creating a new group of this international campaign in Geneva. Wednesday 26th March, 30 activists demonstrated their anger in front of Alcoa's European headquarters in Geneva. Here is where the Alcoa managers take decisions regarding their plans for the destruction and polluting industry for the production of aluminium. | [kml_flashembed movie="http://youtube.com/v/LSJ2RhaCpWY"" width="249" height="212" wmode="transparent" /] |
We are happy to have disturbed their work based on hypocrisy and capitalism for at least one day. We could see them looking at us from the windows thinking: "Oh no! Saving Iceland has come here too!"
We made speeches about the entire situation in Iceland and are sure that Alcoa didn't like us speaking in the middle of the international offices area in Geneva about their dirty business.
We brought a big map of wild Iceland right in front of Alcoa's entrance and made a great theatre, in order to show the greed which drives Alcoa and the National Power Company of Iceland on this island.
Caterpillars, dams, heavy lorries, power lines, smelters, roads and other symbols of destruction were attached to the Icelandic map till it was completely suffocated.
Landsvirkjun's director started the devastation by attaching dams and power plants on the Karahnjukar area.
Then Alcoa's director continued the work by attaching a power-hungry smelter and scattered around a lot of Alcoa's million dollars cash.
The director of Alcoa Defense, the division of Alcoa, that exists especially to help the arms industry to be "Lighter, faster, stronger", contributed by attaching military trucks and combat aircraft.
Then Kathryn Fuller, Alcoa's director and WWF U.S.'s president for many years showed her hypocrisy by again telling the big lie of hydroelectricity being green, and attaching some dead animals and polluting ships full of aluminium or refined bauxite extracted on the other side of the world.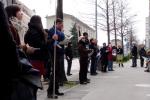 At the end of our performance, the Icelandic map looked like Alcoa wants it to be: a completely industrialized island.
We will never accept this and never stop fighting for the wilderness.
After the demo we went to the Permanent Mission Of Iceland's offices in Geneva to deliver a declaration for the Icelandic government signed by the S.I. activists in which we demand an immediate stop to the invasion of heavy industry on Iceland.
Next day, one of the most popular free newspapers reported our demo and made our fight visible for a larger population.
Click here for a video from the demonstration