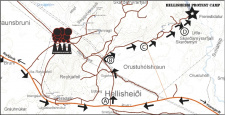 The 2008 camp for action against Iceland's heavy industrialisation has now begun. We welcome the support of all those who want to stop the aluminium industries ongoing ecological and social destruction to join us in direct actions against them. Camp Hellisheiði can be reached by two-wheel drive vehicles and bicycles. Direct action workshops and vegan food is provided for free or donation.
Bring a tent!
Follow the southern Route 1 road from Reykjavik towards Hveragerði. Before you start descending towards Hveragerði you will pass the geothermal power station Hellisheiðarvirkjun on your left. Do not turn down towards this. Instead keep on Route 1. Keep driving past the Hotel at Hveradalir. Turn LEFT into the next main concrete road. It has a big Reykjavik Energy sign on it and it warns you that you are entering a construction site. Don't worry, it is legal to enter this road as it has been built ontop of an old public road. [A]
Continue down this road until you get a choice between continuing straight forwards or turning right. TURN RIGHT here. When you reach a GREEN house TURN RIGHT again. [B]
You should now be driving along a gravel road parallel to large pipes on your right, past a few geothermal energy pods. This road finishes at an area with two geothermal pods. Find the DIRT TRACK to your LEFT and continue down this. [C]
Welcome to undestroyed Hellisheiði! Keep following this gravel road, which is lined with yellow road markers. When you get to a junction, where the left road goes up a hill and the right goes down, go RIGHT. [D]
Keep following this road and you will eventually reach the camp.
See you there!