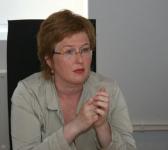 Iceland Review
– The Althingi parliament's environment committee will review Minister of the Environment Thórunn Sveinbjarnardóttir's decision to have
the entire aluminum smelter project at Bakki near Húsavík
in north Iceland undergo a joint
environmental impact assessment.

MP for the Social Democrats and chairman of the environment committee Helgi Hjörvar agreed to assemble the committee and discuss the controversial move made by the minister after receiving a proposal on the matter from Höskuldur Thórhallsson, the Progressive Party's representative on the committee,
24 Stundir
reports.
"At first sight it seems to me that [the decision] does not fall under middle course and equality regulations when a decision was recently made regarding another aluminum smelter, the smelter in Helguvík," Thórhallsson said.
Ground has been broken fo a planned aluminum smelter in Helguvík on Reykjanes peninsula, southwest Iceland, and Minister Sveinbjarnardóttir decided that an overall environmental impact assessment for both the smelter and the related power plants would not be necessary in that case.
However, Sveinbjarnardóttir decided last week that such an assessment would be necessary in the case of Bakki and has consequently been subject to harsh criticism.