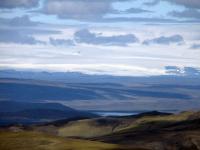 Landsvirkjun, Iceland's national energy company, has announced that the tender offer of the dam
Búðarhálsvirkjun
will be delayed because of the current economical situation. This means that the planned expansion of Rio Tinto Alcan's aluminium smelter in Straumsvík will also be delayed. Construction of
Búðarhálsvirkjun
, which was stopped a number of years ago, will dam the Tungnaá River, close to the lake Langisjór.
The construction of Búðarhálsvirkjun is expected to be around 25 billion ISK and the 85 MW dam is supposed to power R.T. Alcan's increased production in Straumsvík, Hafnarfjörður. R.T. Alcan hopes to increase its production by 40 thousand tons per year without enlarging the smelter. But the company also hopes to enlarge the smelter further, though the people of Hafnarfjörður voted against it in a 2007 referendum, or to construct a new smelter i Thorlakshofn. The dam is also meant to create power for Verne Holdin's data center to be built in Reykjanesbær.
Asked about this in parliament, the minister of industry Össur Skarphéðinsson, said that he would like to ascertain the possibility that RT-Alcan itself or Icelandic pension funds would be interested in financing the project. He also expressed his opinion that the pension funds should in general take part in energy development in Iceland as well as possibly owning shares in aluminium smelters. Skarphéðinsson stated that the development of the aluminium industry would probably be a necessary tool to help solving the economic crisis.
However, construction of large dams and an aluminium smelter has played a significant role in the current economic crisis. They provide a short-term boost to the Icelandic economy but cause a fall in the longer term. Also ,,Local communities where large projects such as Fjardaal get constructed become completely dependent on foreign investment, an undesired and unsustainable condition that destroys local resilience" says Jaap Krater, Saving Iceland's spokesperson in an article in Morgunblaðið about the current crisis.*
Friðrik Sophusson, Landsvirkjun's director, said the company has had informal discussions with the pension funds about financing the dam project. Sophusson also declared his disapointment that the project could not be financed with foreign loans because of the financial situation.
One of the main reason for Landsvirkjun's plans for damming Tungnaá, is the company's problem to push through its plans for three dams in Þjórsá river, in the same area as Tungnaá. Local resistance and a legal case about the water rights in Þjórsá have delayed Landsvirkjun's plans.