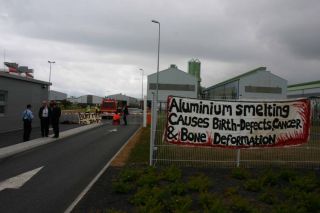 Rio Tinto Alcan has taken back it's plan to enlarge it's aluminium smelter in Straumsvík, Hafnarfjörður, according to the Icelandic newspaper
Fréttablaðið
. Alcoa's planned smelter construction in Bakki (north-Iceland) will also be delayed for the next years. Landsvirkjun (national energy company) and Þeistareykir hf. have agreed to discuss with other interested buyers of geothermal energy in the north of Iceland.
Last Wednesday, Jacynthe Côté, Rio Tinto Alcan's director, told Össur Skarphéðinsson, the minister of industry, that the company's planned 40 thousand ton enlargement in Straumsvík would not take place. The enlargement was planned to take place in 2009, inside the company's already declaired zone. The smelter's production capacity would have raised from 185 thousand tons to 225 thousand tons.
Rio Tinto Alcan's decission could at the same time change Landsvirkjun's plans for the construction of Búðarhálsvirkjun dam in Tungnaá river and therefor Verne Holding's plans to build a internet data center in Keflavík. Rio Tinto Alcan and Verne Holding had both signed contracts with Landsvirkjun about buying energy from Búðarhálsvirkjun.
Another aluminium giant, Alcoa, has also decided to delay the construction of it's planned aluminium smelter by Bakki for several years. Alcoa will though still continue the joint Environmental Impact Assessment (EIA) for the smelter and the planned energy sources.
Landsvirkjun and Þeistareykir hf. have agreed to discuss with other possible energy buyers. Alcoa's and Landsvirkjun's memorandum of understanding ran out the 1st of November this year and Alcoa decided not to take further part in financing the test drilling that is taking place in geothermal areas in the north.
UPDATE: Össur Skarphéðinsson, minister of industry, has now said that this information is wrong, but refuses to say what went on between him and R.T. Alcan's director, Jacynthe Côté last Wesnesday. Until he does so, we keep this article unchanged.