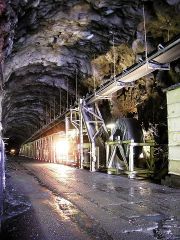 The Italian construction company Impregilo plans to bury machinery, which was used to get stones and gravel up from the inflowing tunnel of the Kárahnjúkar Dam. The conveyer belt, which is about half meter wide, has been rolled in to 200 roles that each weights four tons. In total 800 tons of rubber – about fifty truckloads – will be dug in to the ground in Tjarnalands, Fljótsdalshérað.
After receiving an advice concerning the landfill, the Environment Administration Umhverfisstofnun) decided to stop it for a limited time, while it was researched if this amount of rubber could be buried. The conclusion was that Impregilo is allowed to bury the machinery.
To encourage recycling, it is illegal to bury car wheels, but it seems like when it comes to dealing with companies like Impregilo, the Icelandic state is either to weak or simply playing in the same team. The Administration's spokesperson gave the dull comment that of course it is not suitable how much trash is buried in general, but that there is nothing in the laws that forbids the company to do this.
Árni Finnson, the head of Icelandic Nature Conservation Association says that this is one more example of how Icelandic laws are completely useless when it comes to cases like Impregilo.
Impregilo's spokesperson in Iceland, Richard Graham, says that it would simply not be economically beneficial to transport the machinery to other places where Impregilo constructs or sell it. The same argument goes for the reason the machinery is not being recycled; it just does not serve the financial benefits of Impregilo.
Once again it proves whose benefits the so-called Environment Administration serves. Not the environment, but the economy of big international corporations.