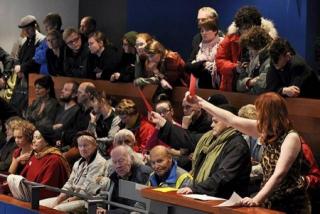 Read the beginning of this story by clicking here
–  Yesterday, the Reykjavík City Council approved Reykjavík Energy's (O.R.) contract about the company's selling of their share in H.S. Orka. The share has been purchased by a Canadian geothermal company, Magma Energy, owned by Ross Beaty, a former owner of copper and silver mines companies in Latin America. O.R.'s share was 32% but Magma Energy had already bought 11% in H.S. Orka from Geysir Green Energy (GGE) and therefor owns 43% in the company. Recently, GGE bought the majority share in H.S. Orka from Reykjanesbær council, which means that the access to geothermal energy in the Reykjanes peninsula is now mainly in the hands of private companies. Magma and GGE have already announced ideas of the companies' unification.
Well over 100 people attended the city council's meeting yesterday to follow the discussion from the balcony of the council's main meeting hall. Öskra! – the movement of revolutionary students, had amongst other, called on people to show up and protest against the decision making.  People were very angry and expressed their anger in many different ways; mostly by shouting and interrupting the councilors' speeches, telling them to get out and calling them traitors. The meeting had to be stopped several times because of the disturbance, which lead to the building's security guards calling for police assistance. Three men were arrested after one of them threw a role of toilet paper down from the balcony on to the floor were the councilors were sitting. When the police attempted to arrest him, two others tried to de-arrest him, which lead to the arrest of all of them. The arrest was quite brutal, enough to shock many of those who attended the meeting. 
The Left Green Party proposed that all decision concerning the contract would be delayed until a committee from the ministry of commerce finishes its research on the issue. This proposal was rejected by the majority. The mayor of Reykjavík, Hann Birna Kristjánsdóttir from the right wing Independence Party, constantly stated the by approving O.R.' s selling of their shares to Magma, natural resources were not being sold, but only the access to them. The fact is that the contract gives Magma Energy access to the geothermal fields in Reykanes for 65-130 years – a period of time that could see the drying of these areas, especially if thet are going to be harnessed on the big scale that is needed to run Century Aluminum's smelter in Helguvík.
The privatization of Iceland's nature has started.