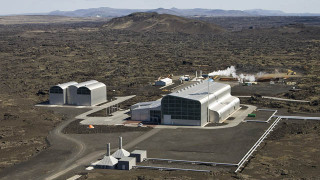 H.S. Orka, an Icelandic energy company recently bought by Canadian firm Magma Energy, has to widen its planned drilling area for the planned enlargement of Reykjanes geothermal power plant and proof that enough energy can be found on a larger area then already arranged for. These are conditions required from the National Energy Authority (NEA), which fears overexploitation of geothermal areas on the Reykjanes peninsula, in the south-west corner of Iceland. An aluminium smelter in Helguvík, which has been in the making for the last few years, is dependent on the enlargement.

Iceland's energy director, Guðni A. Jóhannesson, recently stated 30 out of 50 MW that H.S. Orka plans to produce with the enlargement of the power plant, will have to come from another area then already planned. H.S. Orka's permission to enlarge the plant is dependent on this, which according to the company makes the investment much more complicated.

In an interview with newspaper Morgunblaðið, energy director Jóhannesson said that he does not doubt the company's worries about more complicated investment, but that NEA does not give permissions based on the premises of energy companies –rather on the long-term protection of natural resources. "It is possible to get all this energy on the current construction area, there is no doubt about that," said Jóhannesson. "But we know it from geothermal areas abroad that if too much construction has taken place in too short time, the capacity of the area can decrease, resulting in the need for reducing the production again."

The enlargement of Reykjanes power plant is meant to provide energy for Century Aluminum/Norðurál's aluminium smelter in Helguvík, on the Reykjanes peninsula, which has been in construction for a few years now but has been on hold for a while due to financial- and energy-based problems. NEA's above-mentioned demands to H.S. Orka, strengthen the worries of environmentalists who fear that the geothermal areas on Reykjanes will dry up quickly if the area is overexploited for aluminium production.

Read two recent articles about Helguvík's energy problems here:

Century Aluminum Energy Questions
The Þjórsá Farce Continues – Are the Dams Planned for Aluminium Production?