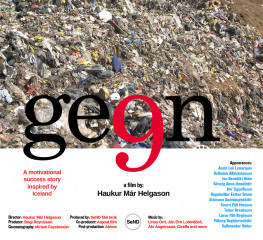 This weekend a new documentary about the Reykjavík Nine will be premiered in Iceland. The film, called
A9aginst
(Ge9n in Icelandic), is directed by author, philosopher and filmmaker Haukur Már Helgason and will be shown at the documentary film festival Skjaldborg, in Patreksfjörður (on the Westfjords), on June 11th. According to the film's website, "this feature-length documentary is a portrait, or rather nine portraits, of people charged and prosecuted in Iceland for 'attacking parliament' in December 2008."
In a conversation with online newspaper Róstur, the director explained briefly his motivation for making the film:
I make the film… well, I guess because there one catches a glimpse of some potential, some possibility, a will for another kind of society, in the minds of a group of people who the state power has, by charging them, defined as a certain set. The charges basically call for an investigation about who these people, defined as enemies, are, and which thoughts someone somewhere can find so dangerous – because it was clear from the beginning that it was not the "action" in the parliament that was considered so dangerous.
On May 3rd 2011, Unesco Iceland held a panel on the right to protest, titled The Yellow Ribbon, where the Reykjavík Nine case and its result in court was the main focus point. There, an 8 min. preview from A9ainst was shown, a clip portraying 'the tenth member' of the group of nine: paramedic and anti-war campaigner Lárus Páll Birgisson.
A few days after the panel the same clip was screened in a political talk show on state TV station RÚV and published on the internet a few days later. The clip can be viewed here below but unfortunately there are no subtitles… yet. Like said before the film will be premiered at Patreksfjörður this weekend and will be screened in cinemas shortly afterwards.
Ge9n – Þáttur Lalla from Haukur Már Helgason on Vimeo.
Check out the film's website here and its Facebook-page here.
Detailed information about the film:
Director: Haukur Már Helgason, Producer: Bogi Reynisson, Cinematography: Miriam Fassbender, Produced by: SeND film tank, Co-producer: Argout film, Post-production: Atmos, Music by: Linus Orri, Jón Örn Loðmfjörð, Áki Ásgeirsson, Giraffe and more.
Appearances: Andri Leó Lemarquis, Kolbeinn Aðalsteinsson, Jón Benedikt Hólm, Sólveig Anna Jónsdóttir, Þór Sigurðsson, Ragnheiður Esther Briem, Steinunn Gunnlaugsdóttir, Snorri Páll Jónsson, Teitur Ársælsson, Lárus Páll Birgisson, Vilborg Dagbjartsdóttir, Guðmundur Oddur.