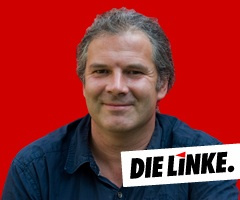 "I'm glad that the women, who were used physically and emotionally by British undercover police, have decided to initiate a legal action against police. Thereby, the operations of these police officers lands once again on the German parliamentary agenda," commented the German MP Andrej Hunko, regarding reports in the Guardian daily newspaper.
Eight women have filed legal action against the Metropolitan Police. Five officers have been named that have infiltrated leftist movements since the 1980's, and used deceit to create sexual relationships with these women. Among them is the former undercover officer Mark Kennedy, who worked for the German police in the states of Mecklenburg-Vorpommern und Baden-Wuerttemberg. The open statement of these women contradicts the claims of Kennedy, that he only had sexual relationships with two women.
Andrej Hunko further stated:
"The courageous step of these eight women must also have consequences in Germany.
According to media reports, Kennedy was operating in 22 countries. It follows then, that Kennedy likely also used such illegal tactics in these countries. In my opinion, the Kennedy operations went against the European Convention on Human Rights, Article 8, which protects the rights for private and family life, including the right to form relationships without unjustified interference by the state.
According to Mark Kennedy, it is unlikely that his commanding officers did not know about his sexual relationships. The women involved speak about an 'institutionalised sexism within the police'.
Although the British Interior Minister announced a restructuring of the undercover operations earlier this year, it appears that only cosmetic changes have taken place. Further investigations have been delayed. The demands for an independent investigation commission has already been denied.
The German policing agencies responsible for the operations of Mark Kennedy must now release all information about his scandalous operation. The German National Criminal Police (BKA) must immediately open up the workings of this network: the police acted as a central point for these cross -border undercover exchanges, and took part in secret international working groups. A recently begun German-British initiative has attempted, at the EU level, to keep such undercover operations a large secret.
The British government must accept that in many countries, there is a need for strong investigations into this affair. Only then can there be the creation of a proper international, and especially independent investigation commission. Then the practices of these undercover officers could be exposed, whether they are in Iceland, Italy, France, Ireland, USA, Germany, or anywhere else".