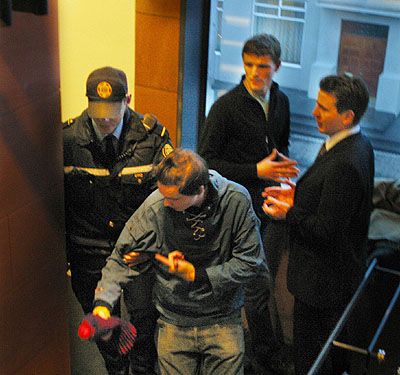 Icelandic band Sigur Ros have voiced their anger over the destruction of Iceland and have made clear their support for the international call for massive protests in the Icelandic highlands next summer.
On the picture above, from January 2003, Jónsi is being arrested for being "the one who behaved worst" in Reykjavík City Hall where the Kárahnjúkar deal was being sealed while hundreds of people protested inside and outside the building.
Sigur Rós appeared at a concert on the 15th of January 2003, where they played three songs accompanying a film called "The Fifth Season", which shows the landscape that will vanish if the 65.5 square kilometres of reservoirs will be allowed to become reality. To emphasise their anger about the abuse of power that is behind the Kárahnjúkar project the band appeared with a choir of gagged women.
Many people feel that the magical nature of Iceland is reflected in the music of Sigur Rós.