Answers to common questions about the 'skyr action' at Hotel Nordica 14 June, 2005.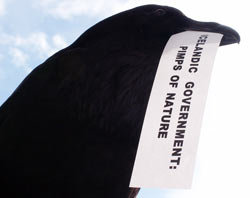 * It was a conference for aluminium and the related industry leaders from all over the world.
* They were here because they think Iceland is right for heavy industrial development. Ironically, this is down to its clean environmental record.
* The people gathered there were key decision makers, financiers and policy drivers behind the Karahnjukar project and other heavy industry developments across Iceland which we oppose.
* A session entitled "An Approach to Sustainability for a Greenfield Aluminium Smelter" started at 11:45 on the day. Hosted by Joe Wahba of Bechtel Corporation and T.M. Sigurdsson of Alcoa, the outrageous hypocrisy of the seminar was extremely provocative to those who truly aspire to the ecological value of sustainability.
Why green skyr?
* Green because "greenwash" is a term commonly used to describe corporations shallow attempts to present themselves as "environmentally friendly" or "sustainable."
* Skyr because it is an organic substance, washable, and therefore not intended to cause injury or irreversible damage.
What was our intent?
* To disrupt the conference and in particular the "sustainability" seminar.
* To send a clear message directly to heavy industry leaders that Iceland is not such a cozy nest for them.
* To inspire others to take action against the corporate/ government conspiracy to defraud Icelanders of much of their amazing natural heritage.
Did we get paid?
* No. We are motivated by love and anger – love for the natural world and anger at those who seek to destroy it for short term personal and shareholder profit and the pursuit of power.
How was it organised and by whom?
* We worked together, without leadership, and through a process of consensus.
* We bear equal responsibility for our actions, the decisions that led to them, and their consequences.
Did we intend to damage property?
* No. Our intentions were simply as stated above.
* In fact, at the ensuing court case against us it was finally confirmed that no equipment was damaged during the action!
* It is a horrible irony that many of these delegates make business decisions which cause enormous and irreversible damage to the planet which belongs to all of us and yet they are not held accountable morally, legally or financially – and especially not individually. What are designer suits next to the largest remaining wilderness in Western Europe.
Arna Ösp Magnúsardóttir
Ólafur Páll Sigurðsson
Paul Gill
See also:
Svör við algengum spurningum um skyraðgerðina á Hotel Nordica 14. júní 2005 – Á íslensku (In Icelandic)
Icelandic 'skyr' activists sentenced
SKYR ACTION SOLIDARITY FLYER pdf