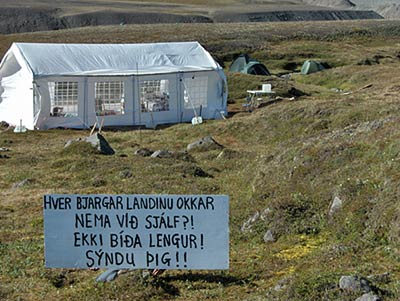 The camp is east of Jökulsá á Brú, just before the bridge, 2 km. south of Kárahnjúkar. It is easily accessible by normal cars, about one and half hours drive from Egilsstaðir. Most of the road is asphalted but soon before you arrive at the camp it turns into a dust road and winds in sharp bends down towards the river. The camp is at the second bend towards the bridge.
If you need further information on how to get there write to us at savingiceland@riseup.net or if you need a lift from Egilsstaðir call……. Click here for a road-map of the area.
People who come with the ferry to Seyðisfjörður should make their own way to Egilsstaðir where they can arrange for a lift to Kárahnjúkar.
Please make sure you bring something useful for the camp and your own food (if you are not a long-termer) and tents. It is very important that you bring plenty of warm clothes to wear. Please see also the Join the Fight section for more practical info.
If you arrive by plane in the international airport near Reykjavik there is an info/meeting center (Telephone: 5518927) in Snarrot, Laugavegur (in the basement of Kaffi Hljomalind) in Reykjavik where information regarding the camp and co-ordinated lifts to Karahnjukar will be available. If you can't get a lift from Reykjavik to Egilsstadir get to the main road and hitch! It's easy in Iceland but it is a long way, so stock up first. Women should think carefully about hitching alone. Try asking around at Kaffi Hljómalind or Snarrot.