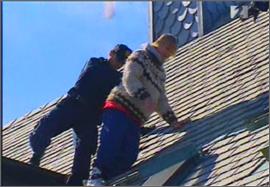 Did the Icelandic authorities think that their terrorizing of legitimate international protesters would stamp out all resistance against their criminal destruction of the last great European wilderness?! If so, they were wrong!
Saving Iceland are delighted to report that at noon on Friday 26. August three courageous Icelandic demonstrators climbed the roof of the head offices of the Icelandic Government and tore down the cloven flag of the Icelandic state, replacing it with a banner saying in Icelandic "NO DAMNED ALUMINIUM FACTORIES". They then proceeded to have coffee and cakes on the roof. The demonstrators are not linked with the protests in the East and in Reykjavík this summer.
Needless to say the Icelandic police responded by brutally arresting two of the demonstrators and interrogated them for the customary ridiculously long time. Apparently the threats are out to charge them for "desecrating" the State flag and causing damage to a flag pole and some roof slates. Incidentally it seems that it was the frantic cops who caused the damage to the slates! The demonstrators are members of the Icelandic rescue services and happen to be highly experienced climbers.
The demonstrators sent a message to Saving Iceland as a response to a message of support: "Many thanks for the support which is certainly mutual. The cops have gone completely overboard with their persecutions and stupid boys games. We are furious about the treatment some of you have had to endure this summer. Love and respect…."
This incident shows that the resistance is NOT over, even if the international protest camp has been disbanded for this year. It is clear from this action, and from the endless stream of articles in the Icelandic press which continue to express solidarity with the summer's protests and outrage about how the authorities have dealt with the protesters, that the Icelandic people are waking up to their duty to fight the destructive corporate takeover of their country.
If Icelanders will not be at the forefront of the struggle to put a stop to the mindless heavy industrialization of their country then no one will.