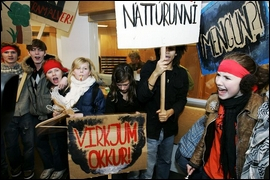 Twenty teenage activists stormed the offices of the Icelandic Ministry of Industry and staged a sitdown and noise demo inside the ministry for about an hour. This was to demonstrate against the international aluminium invasion into pristine Iceland.
The message was tainted more than little by irony: "We want more pollution, more smelters, more destruction of nature, only jobs in smelters, more Alzheimer, fuck nature, fuck the future"
Suddenly the teenagers sat down on the floor and produced tubs of 'skyr' (in symbolic support of the activists who drenched delegates at the 10th International Aluminium Conference with the yoghurt like substance) and proceeded to "eat their own words".
The staff of the ministry called the police, who were well and truly ignored by the vigorous youngsters, and gave up sowing their usual brand of disorder.
This was a very cheerful protest and a total success. Most of the press and all TV stations turned up for the edifying spectacle and no one was arrested.
The action coincided most conveniently with a news release from the Ministry of Industry about four spanking new aluminium smelters that are to be built or extended (ALCAN and Century) in the south-west and north (ALCOA) of Iceland, promising amongst other horrors, according to scientists, to make the bay of Faxafloi the most heavily polluted area in Northern Europe.
Arms manufacturers ALCOA are deliberating a smelter in the north (possibly in Húsavík) on top of the monster 360.000 tons smelter war-profiteers Bechtel are already building for them in Reydarfjordur in the east of Iceland. Europe's last great untouched wilderness is to be sacrificed to generate bogus "green" electricity for the ALCOA smelter.