27/9/2006
A historical amount of Icelanders today marched in four different cities against the damming of Kárahnjúkar. Following a call from retiring television reporter and nature enthusiast Ómar Ragnarsson to march on the day before the dam is scheduled to be flooded, up to 15,000 people in total walked the streets in the Reykjavik, Akureyri, Egilsstaðir and Ísafjörður. "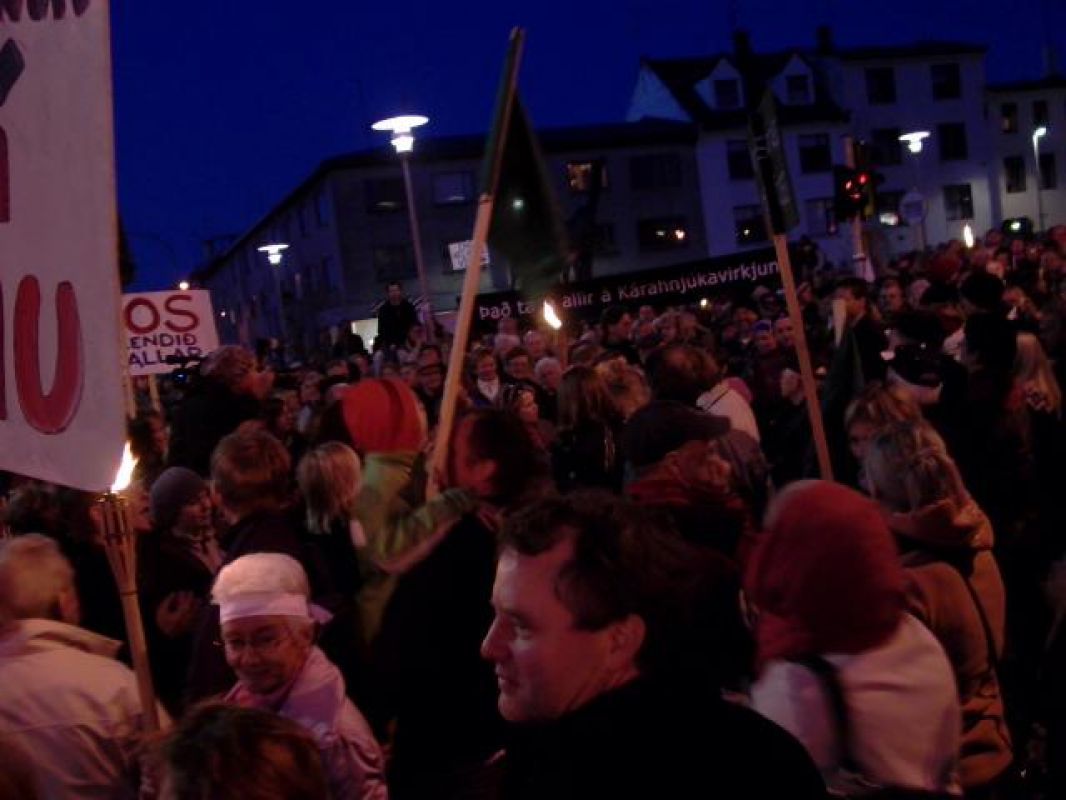 The following is sited from the Reykjavik Grapevine, 27/9/2006.
Thousands of Icelanders marched in protest last night, in support of retiring television reporter and nature enthusiast Ómar Ragnarsson and his call to the Icelandic government to forego with the Kárahnjúkar dam. Thursday will reportedly see an epoch in the Kárahnjúkar damming process, when water will finally be released to flood the valley behind the already-built dam. In a public address, Ragnarsson called for Icelanders to mightily protest this, stating that when an unjust execution is about to go forth one should continue disputing it until the last day.
Protest walks took place on Laugavegur in Reykjavík, in Akureyri, Egilsstaðir and Ísafjörður. Police and organisers disagreed on exactly how many thousands marched down Laugavegur, although both agreed that the numbers were great. According to Reykjavík police estimates, around 7-8.000 people marched while organisers present decreed it to have contained up to 15.000. Local media reports up to 200 marching in Akureyri, around 100 in Egilsstaðir and 50 people protesting in Ísafjörður.
In conversation with the Grapevine right before the march last night, Ísafjörður organizer and scholar Ólína Þorvarðardóttir reflected public opinion to the latest developments in the dam spectacle. "It was foremost Ómar's call that sparked our interest in marching here in Ísafjörður. He has been very diligent in calling attention to the impending harm to nature and the environment and people are finally starting to realise that it's not too late to do something about it. This is why we will answer his call and march, expressing our sorrow over what is happening."
When asked about the effects the Kárahnjúkar endeavour had on the people of Ísafjörður Ólína replied that the scope and effect of the projects is far greater than anyone envisioned. "In environmental and economical terms, the effects are alarming. Here in the Westfjords, we have experienced drawbacks due to the inflation caused by the dam, where greatly needed projects such as improving our dismal road system have been postponed to accommodate it. On another note, the country belongs to all of us; Easterners do not 'possess' the Eastern highlands any more than we possess the Westfjords peninsula. This is our heritage and we have an obligation to pass it on to future generations."