A summer of International dissent and action against Heavy Industry – swarming around Iceland from the 6th of July 2007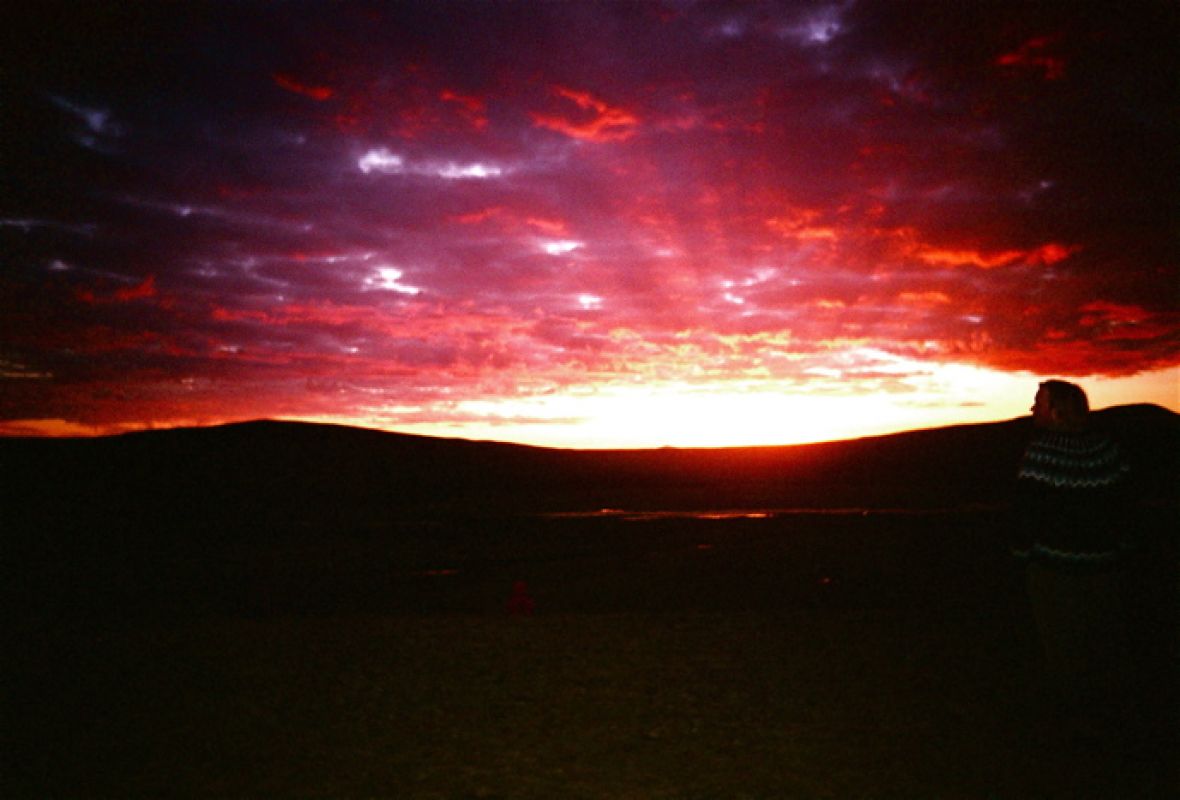 The Camp and Conference:
The camp will start 6 July. The conference on the Global Consequences of Heavy Industry takes place at the camp 7-8 July. Academics, activists and other people affected by the aluminium industry, dams and environmental destruction will come together to discuss their experiences and think about how to build up stronger local and global resistance.
Immediately following from this the protest camp will be set up. It will be a space in which creative and direct opposition to heavy industry can be mounted. There will be workshops, discussions and concerts (by emerging Icelandic groups as well as world famous bands) during this period. There will be a strong focus around direct action, as in previous camps. For example, at the past two camps there were a number of actions whereby protestors got into dam and smelter construction sites, sometimes chaining themselves to machinery, sometimes not. People of all experiences of this kind of protest are extreemely welcome.
For more information about the conference, click here
For more information about the camp, click here (link outdated)

The location of the camp will not be revealed until much closer to the time. There will be a meeting point in both Reykjavík and Egilsstadir from which you will be guided to the camp location. Email us to reserve a lift from these otherwise you will need to make your own way to the camp.
Reykjavík: Kaffi Hljómalind – Laugavegur 21. The workers in Iceland's only cooperative, organic, fairtrade, vegetarian/vegan, Zapatista bean using coffe house will have information for you about the camp when you arrive. Laugavegur is Reykjaviks main shopping street, so any local will be able to point you in the correct direction.
Egilsstadir, Thursday's 1pm: outside Egilsstadir's Tourist Information Centre (next to the Shell garage). Please note, the workers in the tourist information centre won't have information about the camp, so dont bother asking them. If you are sailing to Seyðisfjörður then you will need to travel west along its only outbound road, which leads to Egilsstadir. It is a 30 Minute drive. If you don't have a car try to hitchike to Egilsstadir, or if this fails catch the bus there (leaving Seydisfjordur on Thursdays at 8:20am, 12:20pm and 16:20pm)

Vegan meals will be provided throughout the camp, and will be free to long term campers or anyone who has come from overseas. Otherwise food will be served on a donation basis.
If you are interested in joining the cooking crew, where you will be fully trained to cook for hundreds of people, please email us: savingiceland@riseup.net

Iceland is a famously expensive place to visit but at the camp you will not need to spend any money. Also, if you hitch-hike, use a tent and shop well at stores like Bónus you can live cheaply.
Camp Contacts:
Phone: To be announced
Travelling to Iceland:

Smyril Line sails from Denmark (Hanstholm), Norway (Bergen) and Scotland (Lerwick/Scrabster) to Iceland (Seyðisfjörður, in the East of Iceland) from about €320 return in July (High Season.) If you stay until mid-August you can get a Mid Season return fare which is cheaper. If you remind Smyril Line that you are a "student" then you will get a good discount. You can usually easily change your ticket without any extra cost. Paying in Euros (€) is usually cheaper than Pounds (£). Smyril Line often quotes different prices in each of their departments so call around. Whilst sailing look out for whales and dolphins…
Smyril-line – Ferry from Scotland, Denmark and Norway to Seydisfjordur.

International flights usually land in Iceland's main airport, Keflavik. An airport transfer bus service (called the FlyBus) runs between the airport and Reykjavik bus terminal via various hotels (1100 Kr [1200Kr from 01 Jan 07], 45 minutes). A return is 300 Kr cheaper than 2 singles.
Iceland Express – Flights from Denmark, Sweden, Norway, France, Spain, Germany and UK
British Airways – Flights from the UK
SAS Scandinavian Airlines – Flights from Oslo
Travelling inside Iceland:
We will of course aim to coordinate any necessary camp related transport but there may be times when this is logistically impossible. Also, you may want to travel apart from the camp within Iceland. Like other Nordic countries you can legally pitch your tent on any patch of land that is not fenced off and is not in sight of someones house, for one night, apart from around Myvatn. Many villages have campsites you can pay to pitch at, and you can also stay at mountain huts and emergency shelters which are spread across the country (for info on these check a map). Check the weather report here or in the tourist information centre before you leave on a big journey

Iceland's long distance bus system is slow and extremely expensive, so you might want to consider other means of travelling.
Internal flights are cheaper than buses but they obviously produce huge amounts of planet killing fumes [Air Iceland – Internal flights]
Renting a car is also very expensive for extended periods of time.

It is generally safe to hitch-hike and this kind of travel has lead to lots of exciting road-trips. Iceland has only one highway, Route 1, and it circles the island. Whether you should head along the North or South Route 1 is a matter of raging opinion which will never be settled. Hitching from Egilstadir to Reykjavik will usually take anything between one and four days. Make sure you stock up on supplies before you set off on a long journey, as you will not pass many shops. Try to travel in pairs if possible and be prepared to be unlucky and not get a ride for possibly a day or two. Make sure you have a tent if you hitch-hike.

Many people cycle around Iceland. It is 800km from Seydisfjordur to Reykjavik along the south route of Route 1, and it is mostly flat with a few insane hills. You should judge for yourself how long this will take you but we estimate that it will take you about 10 days to cross the country. The north Route of Route 1 is longer and crosses through the mountaneous interior highlands of Iceland. There are not many opportunities to buy food along the way so make sure you are well stocked and equiped.
Icebike.net – Very Useful general information of cycling in Iceland
Cars of all kinds are extreemly useful: 4x4s, mini buses and vans especially, though small cars that don't use much fuel are too. The cheapest way to travel on the Smyril-Line Norona ship is to fill your car up with people. If you email us in advance, we may be able to subsidise your car fare and organise people to share your seats and cost.
You can circle the country in the summer in a usual road car without a problem. But, entering the central-highlands in something other than a 4×4 can be highly problematic. Most of the Central-Highlands roads are just mud tracks, meaning that they are extremely potholed and can have rivers running through them. We say this as a caution, but many people do take these sorts of vehicles through 4×4 tracks… The higher your vehicle is off the ground the better. Most mountain roads and roads in the interior of Iceland have a surface of loose gravel. The same applies to large sections of the national highway, but which also has long stretches of asphalt. The surface on the gravel roads is often loose, especially along the sides of the roads, so one should drive carefully and slow down whenever approaching an oncoming car. Always observe speed limits, they are there for very valid reasons. The mountain roads are also often very narrow, and are not made for speeding. The same goes for bridges, most are only wide enough for one car at a time. In addition to not having an asphalt surface, the mountain roads are often very windy. Journeys therefore often take longer than might be expected.
For information on road conditions, Tel.: +354-1777, daily 8:00-16:00. or clickhere
According to the law everyone must drive with their headlights on, even in daytime. The general speed limit is 50 km/h in urban areas, 80 km/h on gravel roads in rural areas, and 90 km/h on asphalt roads. Always slow greatly down before approaching a bridge. Even relatively smooth roads have nasty potholes on either side of bridges. Asphalt roads tend to change suddenly and even without warning into gravel roads. That can be very dangerous if you are not driving at a sensible speed and has often caused terrible accidents. Traffic sign posting in Iceland is to put it mildly, sloppy. Don't trust maps just because they show drivable tracks. Mountain tracks can suddenly vanish or become unusable. Be extreemly cautious when crossing rivers. Small streams tend to swell into forcefull rivers in the afternoons, so are best crossed early in the morning. Always make sure another vehicle is present when crossing a river. Expect roaming herds of sheep and cows on roads when driving anywhere in the countryside, and if you knock a sheep over then you legally have to contact the relevant farmer immediately. Petrol stations are few and far between around Iceland and are non-existent in the highlands, so make sure you always fill up when possible,and have spare cans. STICK ONLY TO THE ROADS AS OFF-ROAD DRIVING in the summer IS VERY DESTRUCTIVE TO THE FRAGILE SUB-ARCTIC ICELANDIC VEGETATION, and is also illegal.
What to Bring:

* Waterproof clothing (Coat and trousers), it can rain horrendously.
* Good hiking shoes (trainers can be very dangerous in the highlands.)
* Thermal underwear (it can get very cold!)
* Other warm clothing (eg wool jumpers, gloves, etc.)
* Some summertime clothing – it's not always cold!
* Double skinned tent (or find someone to share with.)
* At least a two season sleeping bag, three season highly recommended but not essential.
Useful but not-essential:

* Camera / video-camera. Especially digital equipment (these are invaluable at the camp). Lots of DV tapes are also very useful.
* Your own cutlery (knife/fork/spoon),
* Plate or bowl and a cup
* Camping cooking equipment (especially if you go travelling on your own)
* Torch
* Compass
* GPS
* Medical equipment
* If you are sensitive to light when trying to sleep then you should bring an eye mask because the sun will be in the sky until very late and early
* Cars of all kinds, 4x4s, mini buses and vans especially, though small cars that don't use much fuel are also useful. These are incredibly useful for the camp functioning. The cheapest way to travel on the Smyril-Line Norona ship is to fill your car up with people. If you email us in advance, we may be able to subsidise your car fare and organise people to share your seats.
* Mobile phones, especially NMT phones that are more useful the highlands.

(The police might try to confiscate these when you enter, think of a reason why you might need them that's not connected to the camp)
* Climbing harness
* Climbing clips
* Bicycle locks
* Paints and brushes.
* Banner material (Bed sheets, etc.)

* Your driving licence, so you can drive a camp car.
* Food for the camp kitchen. In particular please bring special vegan products. This is a country whose biggest supermarket puts milk into its HUMOUS!!
* Is there an environmental/social struggle in your area? Why not bring some fliers?

* You can legally bring in 2 liters of alcohol. Alcohol is famously expensive in Iceland.
Other links
Icelandic Directorate of Immigration – VISAS etc.
LonelyPlanet

The National Land Survey of Iceland
The Icelandic Meteorological office