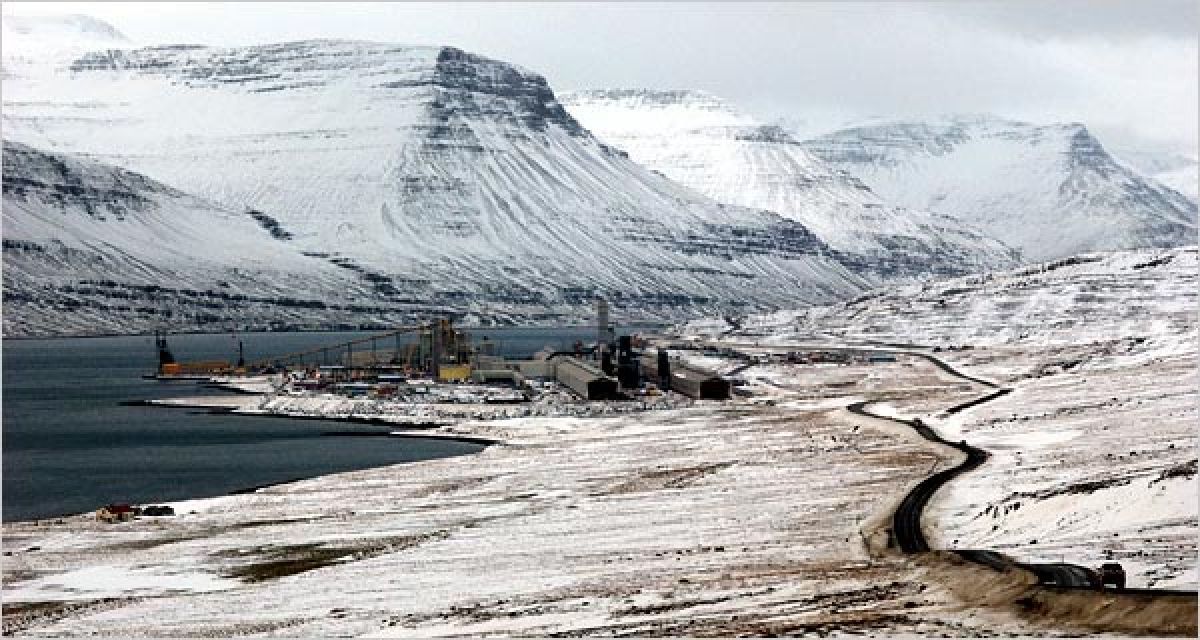 Alcoa is building an aluminum smelter in eastern Iceland, part of a project that is reshaping the wilderness. But a coalition of groups says Iceland is sacrificing its most precious asset — its pristine land — to foreign industry.
The New York Times
By SARAH LYALL
NORTH OF VATNAJOKULL GLACIER, Iceland — In the depths of winter there is almost nothing to see here but snow and rock: snow across the uneven, unearthly landscape, snow on the mist-shrouded mountains, snow stretching to what looks like the edge of the world.
But tucked into Iceland's central highlands, where the Karahnjukar mountain meets two powerful rivers flowing north from Europe's largest glacier, a nearly completed jigsaw of dams, tunnels and reservoirs has begun to reshape the wilderness.
This is the $3 billion Karahnjukar Hydropower Project, a sprawling enterprise to harness the rivers for electricity that will be used for a single purpose: to fuel a new aluminum smelter owned by Alcoa, the world's largest aluminum company. It has been the focus of the angriest and most divisive battle in recent Icelandic history.

.
The culmination of years of effort by the center-right government to increase international investment in Iceland, the project has already begun to revitalize Iceland's underpopulated east. But it has also mobilized an angry and growing coalition of people who feel that the authorities have sacrificed Iceland's most precious asset — the pristine land itself — to heavy industry from abroad.
Now, with proposals on the table for three more power-plant-and-aluminum-smelter projects, environmentalists say the chance to protect Iceland's spectacular, and spectacularly fragile, natural beauty is running out.
"If all of these projects get through, then it's a total environmental apocalypse for the Icelandic highlands; they'll have developed every single major glacial river and geothermal field for heavy industry," said Olafur Pall Sigurdsson, one of the organizers of Saving Iceland, a coalition of groups opposing further development.
"It is a very rare nature that we are the guardians of, and we are squandering it," he said.
The basic issue of how to balance development and nature is the same here as in environmental fights everywhere. But the details are always slightly askew in Iceland, which sits temperamentally as well as geographically on its own, floating between Europe and America.
One of the most unspoiled places in the developed world, Iceland is slightly larger than Indiana, with a population of about 300,000 people (Indiana's is 6.3 million). Two-thirds live in the capital, Reykjavik; the rest are spread across 39,800 square miles of volcanic rock, treeless tundra and scrubby plains. Seventy percent of the land is uninhabitable.
Icelanders tend to view their unpredictable environment — carved from volcanoes and ice and full of stunning waterfalls, geysers, fjords and glaciers — with respect and awe. The air is so pure that the Kyoto Protocol gave Iceland the right to increase its greenhouse emissions by 10 percent from 1990 levels.
The pending proposals call for four more dams, as many as eight new geothermal and hydroelectric power plants, two new smelters (one owned by Alcoa) and the expansion of capacity at an existing smelter. If all are built, foreign companies would have the capacity to produce as much as 1.6 million tons of aluminum in Iceland a year.
They are also allowed to pollute: another Kyoto exception gave power-intensive industries that use renewable energy in Iceland the right to emit an extra 1.6 million metric tons of carbon dioxide a year until 2012.
As a whole, the new smelters would require about eight times the amount of electricity currently used for all of Iceland's domestic consumption, putting a huge strain on the country's rivers and thermal fields, said Hjorleifur Guttormsson, who was Iceland's energy and industry minister from 1980 to 1985. Mr. Guttormsson, a naturalist, said pollution was another concern: aluminum plants are heavy emitters of sulfur dioxide, hydrogen fluoride and other chemicals.
But Alcoa says it has fitted state-of-the-art pollution controls in its new plant and has already fulfilled its companywide pledge to reduce total greenhouse gas emissions by 25 percent from their 1990 level.
A spokesman for the company, Kevin Lowery, said the new smelter would produce 1.8 metric tons of carbon dioxide for every metric ton of aluminum it produced — a total of 541,000 metric tons a year — compared with 13 metric tons of carbon dioxide per metric ton of aluminum for a coal-fired smelter. "The emissions from this facility will be less than for any other facility of this size elsewhere in the world," he said.
Jon Sigurdsson, minister of industry and commerce, said the proposals were subject to multiple hurdles, including, in some cases, local referendums. The government has always applied rigorous environmental standards to development projects, he said, and is preparing legislation that would set out a master plan for the country, designating which areas are to be protected and which have the potential for development.
"We stand on the threshold of a new era," he said. "We wish to take both sides into consideration in a new general framework that will accept environmental concerns as being as important as other concerns."
Sigurdur Arnalds, a spokesman for Landsvirkjun, the national power company, which is developing the Karahnjukar project, said: "Democracy will have the final say. Naturally, we will not build up every possibility we have; we have to stop someplace."
Iceland is a prosperous country, but its prosperity is concentrated in Reykjavik. The government has long sought ways to bolster the economy by exploiting the country's second- biggest natural resource, after fish: electric power, derived from a vast network of rivers and from underground geothermal fields.
But since the power cannot feasibly be exported, the idea has been to import demand. Aluminum seems a perfect fit. It is a power-intensive industry that needs easy access to ports for importing raw materials and exporting the finished product. Iceland has clean, available power, abundant coasts and proximity to the lucrative European market.
Iceland's first aluminum plant was built in the 1960s; there are now two, both near Reykjavik.
"The government has done everything in its power to make way for these plants," Kolbrun Halldorsdottir, a member of Parliament from the Left-Green Movement, said. "They have been fixed to this scheme like Saudi Arabia is fixed to oil. They don't believe in entrepreneurship, job opportunities in our culture, tourism. They only believe in aluminum."
The Karahnjukar project, years in planning, had the support of the center-right coalition government, which has been in power for 12 years. In opinion polls, the majority of Icelanders have consistently supported it, too, saying it would bring jobs and money to the eastern fjords.
But environmentalists say the project will devastate some 3 percent of Iceland's land mass, destroying or affecting 60 waterfalls; causing widespread soil erosion that will send sand and dust blowing across the highlands and onto farms; and flooding an area covered in unusual moss and used by reindeer, nesting pink-footed geese and myriad birds, like the gyrfalcon and the ptarmigan.
They say, too, that the dam is inherently unstable, built on an unusually thin, fractured crust of earth near one of the most volcanically volatile areas in the world. Just south, the Vatnajokull glacier is melting rapidly from global warming, adding to the geological uncertainty.
In 2001, the Icelandic Planning Agency rejected the Karahnjukar plan, ruling that any economic benefits would not compensate for the potential environmental harm. But Iceland's environment minister at the time overturned the decision, set some new conditions and allowed the project to go ahead.
Opponents now say that many Icelanders did not appreciate its scale or potential impact.
"People were kind of misled, and I don't think even the politicians really understood what was going on," said Andri Snaer Magnason, a poet, playwright and novelist. Last year, Mr. Magnason, 31, published "Dreamland," a devastating polemic that puts Iceland's environmental issues into a global perspective. The book has sold 18,000 copies — the equivalent, in percentage terms, of 18 million copies in the United States.
In September, Omar Ragnarsson, one of the country's most respected television reporters, announced that he could no longer cover the Karahnjukar project with a journalist's impartiality and would campaign against it. In a country where public demonstrations are rare, he led an antidam rally in Reykjavik, attended by 8,000 to 13,000 people.
When seen up close, the project dominates the landscape. At 2,400 feet wide and 650 feet tall, the dam is the highest of its kind in Europe. The reservoir, which will eventually cover 22 square miles, stretches out across one side, where land used to be; an empty riverbed carved far down in the rock stretches from the other side, where water used to be.
The harnessed water is to be sent through 45 miles of tunnels blasted into the mountains to a new hydropower station built deep inside a mountain in the Fljotsdalur Valley.
Finally, the electricity is to be sent along 32 miles of overland transmission lines to the Alcoa smelter, a milelong building on the edge of a fjord in the town of Reydarfjordur.
The smelter is supposed to begin producing aluminum by this summer, and the initial effects are obvious: there is a building boom going on in the east. "It's like gold fever, or when everyone is drunk — and you know that the hangover will come," said Greta Osk Sigurdardottir, a cattle and dairy farmer who lives in the area and who opposes the project.
Reydarfjordur, population 650, has its first mall. Housing prices have gone up. People are moving back, and the extra money has begun to give the town modern amenities, said Helga Jonsdottir, the mayor of Reydarfjordur and five other villages.
But others are not so happy. Gudmundur M. H. Beck spent his first 57 years in Reydarfjordur, raising sheep and chickens on his family's farm. When 18 electricity pylons were built across the land and the government passed regulations forbidding grazing there, Mr. Beck took his animals to the slaughterhouse and moved north, where he lives near unspoiled mountains and lakes and is taking history classes, he said.
"This is the most horrible thing that has ever been done here," he said. "I really have no words to describe it."
The smelter is low, but dominates the coast. Shopping at a sporting-goods store at the mall, Krilla Bjork, 61, said she was thrilled at all the new stores and houses. Of the smelter, she said, "It's not beautiful, but I accept it because it's necessary."
The New York Times, 04 February 2007
Smokestacks in a White Wilderness Divide Iceland