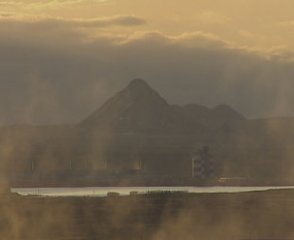 Iceland's path as either a wild green masterpiece or a mid-Atlantic industrially polluted backwater is to reach a significant junction tomorow, Saturday the 31st of March. Residents of Hafnarfjordur, SW of Reykjavik, will vote on whether they want their Alcan (Canadian Aluminium) smelter expanded into by far the biggest aluminium smelter seen in Iceland to date.
The smelter, which lies in the vicinity of Hafnarfjordur, in Straumsvik, currently has a capacity of being able to produce 180,000 metric tonnes of aluminium per year (mtpy.) Alcan wishes to turn this into an unbelievably massive 460,000 mtpy smelter.
Iceland's current largest smelter asside from this, being built in Reydarfjordur, can produce a gigantic 322,000 mtpy of aluminium and is to be powered by damming the Central-Eastern of Icelands: the infamous Karahnjukar project.
If the smelter in Hafnarfjordur is to be enlarged then we will be facing the destruction of Iceland's Central Southern Highlands – Langisjor, Kerlingarfjoll, Thjorsarver, the nether region of Thjorsa not to mention the geothermal fields in Reykjanes and so much more.
To anyone who has the opportunity to vote in this referendum, please vote to keep Iceland a wild and green masterpiece.