Press Release – July 20th, 2007 – Icelandic below – Follows from earlier release today – Photo Report – Photo / Video footage available from 8578625.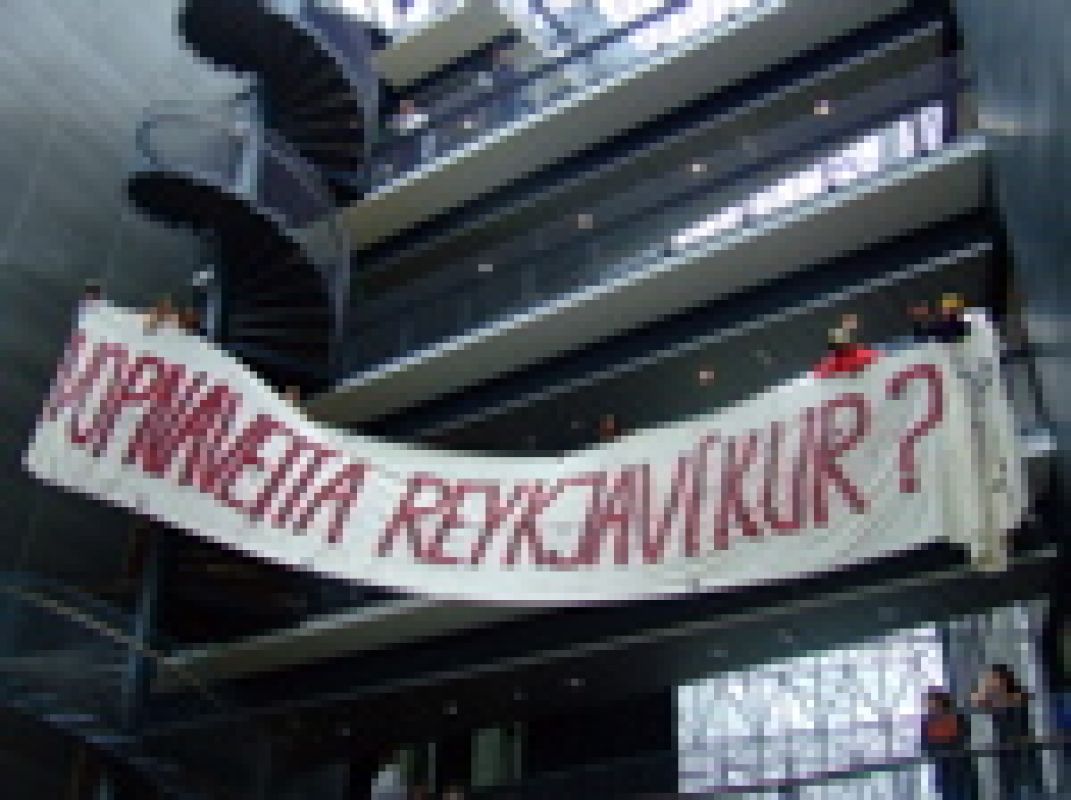 Today 25 protestors from Saving Iceland went into Orkuveitu Reykjavíkur (Reykjavik Energy, O.R.) and hung up a banner inside stating: 'Vopnaveita Reykjavíkur?' ('Reykjavik Arms-dealers?'). The banner was not hung outside as planned earlier because of weather conditions. Protestors stayed in the building from 15.15 until 16.00 hrs.
Páll Erland speaking on behalf of O.R. states that they offered strawberries to protestors and welcomed Saving Iceland to put up the banner. While Erland might be happy to discuss strawberries with their visitors, they certainly did not give permission to hang up a banner indicating that they sell energy to companies known to be involved in arms production and serious human rights violations (as documented in our earlier press release)
Saving Iceland has now contacted O.R., requesting they put up the banner and discuss publicly with us the ethics of selling energy to corporate criminals such as Century-RUSAL and Alcan-RioTinto.

— ENDS
More information:
https://www.savingiceland.org
Phone: Snorri Páll Jónsson Úlfhildarson, (+354) 8480373.
High res-pictures available on request and in photo gallery (can be used freely).
Fréttatilkynning
20 júlí , 2007
Í framhaldi af fyrri tilkynningu í dag
(/?p=857).
SAVING ICELAND BÝÐUR ORKUVEITU REYKJAVÍKUR TIL OPINNA VIÐRÆÐNA UM SIÐGÆÐI FYRIRTÆKISINS
Í dag fóru 25 mótmælendur frá Saving Iceland inn í höfuðstöðvar Orkuveitu Reykjavíkur (O.R.) og hengdu upp borða sem á var letrað 'VOPNAVEITA REYKJAVÍKUR?'. Borðinn var ekki hengdur upp úti á húsinu vegna veðurs. Mótmælendur stöldruðu við í húsinu frá kl. 15.15 til kl. 16.00.
Talsmaður O.R., Páll Erland, staðhæfir að starfsmenn O.R. hafi veitt mótmælendum jarðarber og boðið Saving Iceland að hengja upp borðann inni í húsinu. Páll Erland kann að vera umhugað um að ræða um jarðaber við gesti O.R., en það er hins vegar ekki rétt að O. R. hafi boðið mótmælendum að hengja upp borða sem bendir á þá staðreynd að fyrirtækið selur orku til aðila sem eru viðriðnir vopnaframleiðslu og alvarleg brot á mannréttindum (eins og sjá má í fyrri fréttatilkynningu okkar sem hægt er að lesa á /?p=857.)
Saving Iceland hafa haft samband við Orkuveitu Reykjavíkur og beðið um heimild til þess að hengja upp umræddan borða utan á höfuðstöðvar O.R.. Auk þess að við æskjum þess að fulltrúar O.R. taki þátt í opnum umræðum við okkur um siðgæði þess að selja orku til fyrirtækja sem stunda glæpsamlega iðju, eins og bæði Century-Rusal og Alcan-Rio Tinto gera.
Frekari upplýsingar:
https://www.savingiceland.org
Sími: Snorri Páll Jónsson Úlfhildarson, 8480373.
Ljósmyndir og myndskeið: 8578625.