Global Consequences of Heavy Industry and Large Dams
Saturday & Sunday July 7 – 8th, 2007, Hótel Hlíð, Ölfus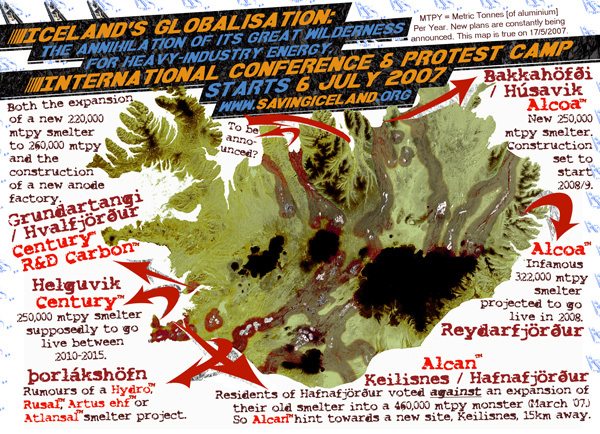 Updated July 5th
After three years of struggling against large dams and heavy industry, the Saving Iceland campaign will connect with struggles around the globe. The Saving Iceland Conference will be featuring speakers from South and North America, Africa, India and Europe, activists and scientists. Saving Iceland's magazine Voice of the Wilderness (download pdf) introduces all the key issues and speakers, including for example Dr. Eric Duchemin (University of Montreal, consultant for the IPCC), Gudbergur Bergsson (writer), Cirineu da Rocha (Dam-Affected People's Movement, Brazil) and many others, and the conference program.
Ráðstefna "Saving Iceland" 2007 – Hnattrænar afleiðingar stóriðju og stórstíflna
Laugardaginn og sunnudaginn 7. og 8. júlí 2007
Hótel Hlíð, Ölfusi

Location of the conference
Hótel Hlíð, Krókur, Ölfus.
(Between Hveragerði and Thorlákshöfn.)
Press Contacts:
conference [at] savingiceland.org
/conference
Introduction
Around the world, heavy industry and large dams have displaced millions of people, mostly without any compensation. They have destroyed terrestrial and acquatic ecosystems, erased wildlife. They have polluted our air and water and are changing our climate beyond repair – in the name of progress.
Former Indian prime minister Jawaharlal Nehru put it this way: "If you are to suffer, you should suffer in the interest of the country", speaking to villagers who were to be displaced by the Hirakud Dam, 1948. Both the governments of India and Iceland still regard megahydro as a symbol of ingenuity, progress and a matter of national pride.
In Trinidad and Tobago, and in Iceland, the aluminium industry is looking for abundant sources of power, in a time of increasing energy insecurity.
But history has always shown undercurrents who would not conform to the prevailing views of progress. Many people resist being sacrificed for the sake of the country or the economy and many have resisted their land and wilderness being sacrificed.
The Saving Iceland 2007 Conference will broaden your perspective on the struggle against heavy industry.
Presiding the conference is the well known American preacher, humorist and social activist, Reverend Billy of the Church of Stop Shopping. Changeallujah!
"The protection of the Icelandic wilderness is very much connected to global issues such as climate and energy," says Jaap Krater from the Netherlands, a member of Saving Iceland's conference organizing collective.
"Our conference will look at the Icelandic struggle in this perspective, and will be a unique possibility for people from over a dozen countries all over the world to exchange experiences. We do not want more heavy industry or large dams, not in Iceland, and not anywhere in the third and first world alike. Together we are aiming to stop overdevelopment. We are promoting social justice and a life in harmony with the earth's natural systems."
Admission to the conference will be free, donations welcomed. There will be a creche available and free camping. There will be organic, vegetarian food available at cost price from a new Icelandic mobile action kitchen collective.
CONFERENCE PROGRAM
(provisional and subject to change)
SATURDAY JULY 7TH
Breakfast, coffee and tea will be served in the morning on the Saving Iceland campsite.
1100
Conference opening
Reverend Billy and Savitri (Church of Stop Shopping)
1130
Blue eyes in a pool of sharks
An innocent nation in retreat from responsibility
Gudbergur Bergsson
1200
Iceland under threat
Introduction to how Iceland is threatened by heavy industry.
Ómar Ragnarsson
1230
A Smelter in Trinidad?
People's struggle against a new ALCAO and AluTrint smelter in Trinidad & Tobago.
Rights Action Group
1310
The history of civil disobedience and direct action
From the past to the future – how direct action can change the course of history.
Helen B (Road Alert, UK)
1340
Narmada Bachao Andolan
Most well-known people's movement in India, fighting for adivasi (tribal) rights displaced by megadams.
(NBA)
1420
Lunch
1500
Powering Heavy Industry – From Kyoto to Peak Oil
Heavy industry developing strategies for the climate and energy crises.
Jaap Krater (Saving Iceland)
1530
The effects of large dams on climate
A presentation on the output of greenhouse gases of hydroelectric reservoirs.
Dr. Eric Duchemin (University of Québec)
1630
A green or grey future? Differing visions of progress.
Panel discussion featuring activists from Iceland and around the globe
1730
Saving Iceland press conference
1800
Ends
Evening
Organic vegetarian supper
SUNDAY JULY 8TH
Breakfast, coffee and tea will be served in the morning on the Saving Iceland campsite.
1100
The largest wilderness in Europe
Threatened wildlife and geology in Iceland
Einar Thorleifson (Natturuvaktin / Naturewatch; Icelandic Society for Protection of Birds)
1140
Strategies to save Iceland
Discussion from the grassroots for the struggle against heavy industry in Iceland.
1240
Struggle in Kashipur
The fight against UTKAL/ALCAN in East India.
Samarendra Das
1320
Struggle in South Africa
Experiences of the fight against ALCAN in South Africa.
Earthlife South Africa
1400
Lunch
1440
In the Shadow of Power
Abuse of power as a rural fishing community is turned into a corporate heavy industry zone.
Gudmundur Beck (Farmer displaced by the ALCOA project in eastern Iceland)
1520
Damning the Amazon
Aluminium threatening the Amazon basin and it's people.
Movement of Dam-Affected People
1600
How heavy industry is connected to the big picture of 'civilization'
What will it take for us to stop the horrors that characterize our way of being?
Video-conference with green anarchist author Derrick Jensen in the US.
1640
Momentum against the megamachine
Sharing experiences of people's movements against heavy industry, large dams, the anti-roads movement and globalisation.
Discussion of how to bring the global movement for ecolocical harmony and justice and against overdevelopment forward.
International panel featuring members of the 2007 mobilisation against the G8, Road Alert UK, anti-aluminium activists from around the globe, and audience discussion.
1740
Closure and declaration
Reverend Billy and Savitri
1800
Ends
Evening
Organic vegetarian supper
Music by Captain Tobias Hume
Speakers at the Saving Iceland Conference
At the conference, there will be speakers from Icelandic Naturewatch, the Icelandic Society for the Protection of Birds, Futureland, Saving Iceland and local Icelandic grassroots groups. In addition, the following international speakers will be attending the Saving Iceland Conference.
– Cirineu da Rocha for the Dam-Affected People's Movement from the Amazon basin in Brazil, where ALCOA wants to build a number of dams.
– Dr. Eric Duchemin, adjunct professor at the University of Québec at Montréal Canada and research director of DREXenvironnement, has been a leading author for the UN's Intergovernmental Panel on Climate Change (IPCC) and will be talking on the effect of large dams on climate.
– Lerato Maria Maregele is involved in the struggle to stop a new ALCAN smelter in South Africa.
– Kailash Awasya, involved with the Save the Narmada Movement (Narmada Bachao Andolan), the most well known South-Asian social movement, fighting against large dams and for tribal rights in India's Narmada River Valley and beyond.
– Helen B will join us from the UK. She has been heavily involved with the succesful British anti-roads movement. She will give an overview of the fascinating history of direct action.
– Attilah Springer, Rights Action Group, is fighting a new ALCOA smelter in Trinidad & Tobago.
– Till Seidensticker has been involved and will be talking about the recent mobilization against the the G8 in Germany.
– Jaap Krater, is involved in GroenFront! – Dutch Earth First!, a high-profile direct action movement in the Netherlands. He will be talking on the response of the aluminium industry to peak oil, the looming energy crisis and climate change.