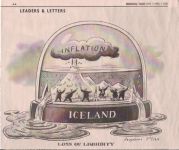 By Jaap Krater, Miriam Rose and Mark Anslow, The Ecologist, October 2007.
The gates of a geothermal power station are not where you would expect to find environmental activists. But the morning of 26th July 2007 saw the access road to Hellisheidi power station in Hengill, South-West Iceland, blockaded by a group of protestors from the campaign group 'Saving Iceland'. After a brief demonstration, nine activists were arrested and several now face legal action.
Geothermal power in Iceland is big business. Just five plants generate 3 TWh a year – more than the annual output from all the UK's wind turbines combined (Orkustofnun 2005; BERR 2006). Geothermal power also provides at least 85 per cent of Iceland's homes with heat and hot water. This abundance of cheap, largely CO2-free energy has attracted energy-hungry industries to the country like sharks to a carcass. Of these, by far the most energy intensive is the aluminium industry (Krater 2007; Saving Iceland 2007).

Renewable energy is particularly attractive to aluminium smelters because the very process of refining aluminium gives off huge amounts of carbon dioxide, as well as a cocktail of other chemicals including inorganic and organic fluorines, poly-aromatic hydrocarbons and sulphur dioxides, many of which are extremely potent greenhouse gases (Das & Padel 2005). By using 'clean energy', such as the terawatts available in Iceland's hot rocks and mountain rivers, the refiners can make the industry appear cleaner.
Such opportunities have led to aluminium giants queuing to get into the country. Alcan opened Iceland's first plant in 1969 in Hafnarfjörður. Originally slated to produce 33,000 metric tons of aluminium per year (mtpy), it was subsequently uprated to 180,000 mtpy. Alcan are now pushing for a further expansion of the plant to around 460,000 mtpy, despite a public referendum which voted against the proposals. The Mayor of Hafnarfjörður, Ludvik Geirsson, is backing the company, claiming that the referendum only applied to the existing plans and would not prevent the construction of new facilities on top of the city's landfill site.'Nietzsche killed God; Ludvik killed democracy,' read one activist's banner at a recent protest.
Iceland's second smelting plant began operations in 1998 in Grundartangi, Western Iceland. Owned by US-based Century Aluminum Company, the plant began with an output of 220,000 mtpy, but will soon add another 260,000 mtpy. Hungry for more capacity, Century's subsidiary, Norðurál, have announced plans for a new 250,000 mtpy facility at Helguvík near Reykjavik.
Whilst waiting for an Environmental Impact Assessment (EIA) to be considered, Norðurál have gone ahead and signed a 'memorandum of understanding' with two leading geothermal power generators, and raised some $360 million of venture capital in the US (Credit Suisse 2007; European Investment Bank 2007). This suggests that Norðurál knows that the EIA will not raise too many awkward questions. Some of this confidence may stem from the fact that the company which undertook the EIA is the construction firm HRV, which has co-built three of Iceland's previous smelters.
HRV's vested interests shine through in its report. In considering the airborne pollution that might result from the plant, HRV advises that any plumes vented from the factory could be expected to 'blow away' in the strong winds of Helguvík.
Should the Icelandic Government give the nod to the Helguvík project, then a correspondingly large-scale increase in geothermal power generation will be called for. Whilst geothermal power can be a clean energy source, time, money and the interests of the big industry can make it substantially less so.
The boiling water which comes out of geothermal boreholes is extremely useful while it spins turbines and heats buildings. After that, however, it becomes a waste product. Laced with various and sometimes toxic compounds from deep within the bedrock, the water is either pumped back into the borehole – which can lead to geological instability – or is pumped untreated into streams and lakes (Kristmanssdottir & Armanssdottir 2003; Rybach 2003). This particular technique has already created a huge dead zone in lake Thingvallavatn, leading to a decline in numbers of falcons, greylag geese, harlequin ducks and ravens (VGK 2006; Landvernd 2007).
For the Saving Iceland protestors, the fight goes on. New plans include additional smelters by Alcoa and Norsk Hydro, an anode factory and oil refinery. If these are realised, CO2 emissions could rise to 63 per cent above 1990 levels, ushering in the absurd situation of a country which generates 99 per cent of its electricity through renewable technologies soaring past its generous Kyoto targets (Icelandic Ministry of the Environment 2006).
At a recent conference, the campaign group set out its manifesto (Ley et al 2007):'Progress is painted by some as huge projects, large scale development. In all our countries, these have become disasters, socially, ecologically and economically,' it reads. The group's human-scale definition is more accurate.'Progress is a plenitude of small solutions.'
References:
Department of Business, Enterprise and Regulatory Reform (BERR) (2006). Digest of UK Energy Statistics. http://www.dtistats.net/energystats/dukes06_c7.pdf [Accessed September 16, 2007].
European Investment Bank (2007). News Release. http://www.eib.org/projects/pipeline/2007/20070057.htm [Accessed August 15, 2007].?
VGK (2006), Environmental Impact Assesment for Helisheidarvirkjun. http://www.vgk.is/hs/Skjol/UES/SH_matsskyrsla.pdf [Accessed August 15, 2007].
Credit Suisse (2007). News Release. http://www.newratings.com/analyst_news/article_1548857.html [Accessed August 15, 2007].
Das, S. and Padel, F. (2005). Double Death – Aluminium's Links with Genocide. Economic and Political Weekly, 2005 (12).?
HRV (2007). Environmental Impact Assesment for Century Norðurál Helguvik. http://www.hrv.is/media/wordpress/wp-content/uploads/2008/01/Frummatsskýrsla_2007-05-02_low%20res.pdf [Accessed August 15 2007].?
Krater, J. (2007). Elke stuwdam is een ramp. Trouw (daily) 20-1-2007.?
Kristmannsdóttir, H. and Armannsson, H (2003). Environmental aspects of geothermal energy utilization. Geothermics 32, 451-461.?
Landvernd (2007). Letter to national planning agency, 28th June 2007. http://www.landvernd.is/myndir/Umsogn_Helguvik.pdf [Accessed August 15 2007].?
Ley, A. et al. (2007). Global Consequences of Heavy Industry and Large Dams. Conference Declaration. Saving Iceland, Olfus. Full list of author-signatorees available at: https://www.savingiceland.org/declaration2007 [Accessed August 2007].
Ministry of the Environment, Iceland (2006). Iceland's Fourth National Communication on Climate Change. http://unfccc.int/resource/docs/natc/islnc4.pdf [Accessed August 15, 2007].?
Orkustofnun (2005). Energy Statistics in Iceland. http://www.os.is/Apps/WebObjects/Orkustofnun.woa/swdocument/3879/Orkut%C3%B6lur+enska+2005.pdf [Accessed August 15, 2007].?
Rybach, L. (2003). Geothermal energy: sustainability and the environment. Geothermics 32, 463-470.?