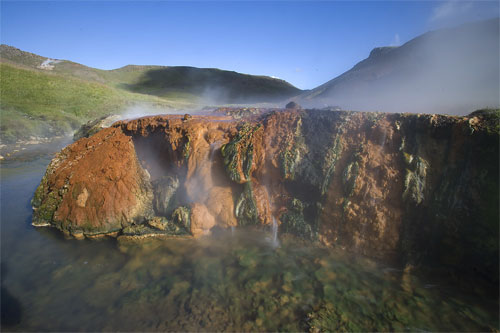 From Fréttablaðið
26 November 2007
Ólafur Áki Ragnarsson, the Mayor of Ölfus, says the overwhelming negative stance of the town of Hveragerði will not have definite influence on whether the Bitruvirkjun power plant goes ahead. The power was earmarked for an Alcan Aluminium smelter in Helguvík.
Hveragerði construction committee has completely rejected the construction and considers it to have devastating impact on the potential of the town as a residential and tourist region, as the area is classified ´pristine´ by the Icelandic government.
"If we are to live off the land we need work", says Ólafur when asked about the position of Hveragerði."There are a lot of things that recommend this plant. The power has already been promised to construct a smelter in Helguvík. It would really be something if the nation was to stop using its resources. We do not live purely off the air, thats for sure!"
The stance of Hveragerði is surprising he thinks, but does not have direct influence on the planning. The region will continue its construction and Skipulagsstofun (the planning department) will decide whether it will accept the Environmental Impact Assessment or not.
"Then again the region has the final decision and can take a different one from the planning department, as we did with the mining at Ingólfsfjall", (very disputed rock mining between Hveragerði and Selfoss), says Ólafur.
When asked what would happen if Orkuveita Reykjavikur backed out (not exluded by Social Democrat Reykjavik Council spokesperson Dofri Hermannsson), Ólafur says that the promise was given under the R-list coalition which the Social Democrats were part of;
"It would be very special of they backed out now. Things would turn upside down for this country if we couldn't construct this plant. It is made in peace with nature and if we cant build such powerplants, we Icelanders are in big trouble." says Olafur in Frettablaðið.
For background information on negative responses to Bitruvirkjun see
/?p=1041