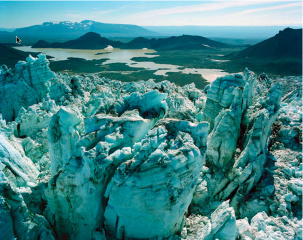 Reykjavík Energy (OR) is examining the feasibility of harnessing Farid, a river that runs out of Hagavatn lake, south of Langjökull glacier in Iceland's western highlands, and constructing a 30 to 40 MW hydroelectric plant there.
Farid would be dammed and another dam would also be constructed above Leynifoss waterfall, Morgunbladid reports.
The Ministry of Industry granted permission earlier this year for OR to examine this possibility and to see whether the prevention soil eruption and production of hydroelectric power could go together.
Employees of the Soil Conservation Service of Iceland have long considered damming the river to prevent soil eruption in the area since they believe it originates in the dried-up base of Hagavatn lake.
The Icelandic Institute of Natural History, however, believes that if Hagavatn lake is used as a reservoir, soil erosion from its base will increase in late winter and early summer.
Director of the Icelandic Tourist Association Ólafur Örn Haraldsson is against the plans. "A dam and a power plant will destroy one of the most spectacular land formation processes of Langjökull," he said, adding the area is like an open and easily readable geology book.
Haraldsson said the area is becoming an increasingly popular hiking destination, which has the potential to become as popular as Laugavegur hiking route to Landmannalaugar, south Iceland.