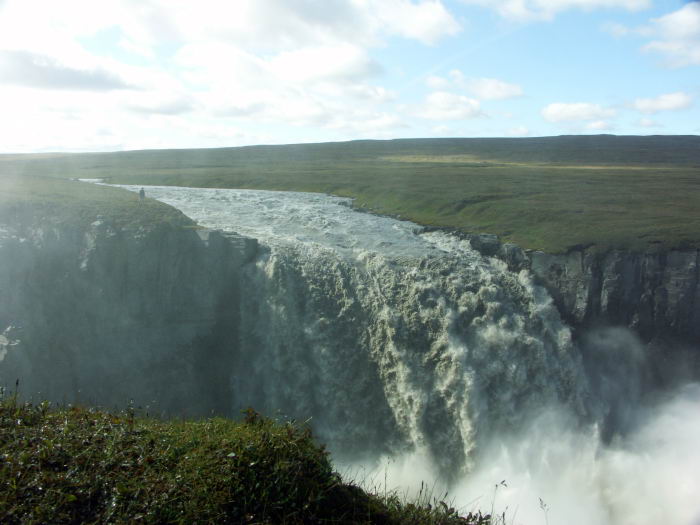 Saving Iceland

What a surprise! After five years of listening to news of delays, accidents, deaths and so on at the Kárahnjúkar worksite, who would ever have imagined that there was something strange about Landsvirkjun's portrayal of the whole affair?
In Morgunblaðið on the 28th of November Völundur Jóhannesson, tourist industry pioneer in the east of Iceland, spoke about Töfrafoss (the magic waterfall) dissappearing under Hálslón.
"The spokespeople of Landsvirkjun (LV) always claimed, both in writing and speech, that the waterfall in Kringilsá would go half way under water when the reservoir would be full," says Völundur. "In Páll Ásgeir Ásgeirssons book, Hálendishandbókin, Páll says that the reservoir is just supposed to reach half the waterfall. Stefán Halldórsson at Brú also said that LV people had told him that the reservoir would flood half the waterfall. But less than a month ago I took a photograph which shows clearly that the waterfall is probably 7 or 8 meters below water-level and now the reservoir flows 800 meters inland from the waterfall. So there we have one beautiful waterfall sunken which wasn't supposed to go under water according to official information. I told people this would happen but they wouldn't believe me,"
says Völundur, obviously cross.
From www.natturan.is:
"If this is true the reservoir could be up to 10 meters higher than planned, which means that there would be 570 million tons of water more than expected.
According to info from the Landsvirkjun webpage the dam should now be 198 meters tall and the reservoir 2100 gigalitres. The question is therefore: How much higher than agreed upon in the environmental assessment has the reservoir risen? and how many percent bigger is the reservoir given that the waterfall has disappeared?
Geophysicist Ásta Þorleifsdóttir has asked how much more of the protected land at Kringilsarrani has been ruined than allowed and what the consequences of breaking nature preservation laws would be, if this is the case.
(End of quote)
Landsvirkjun's credibility has gone down the drain for good. Why should anyone believe their figures of heights of reservoirs from now on? Cynical as it may sound, given their track record and that the Icelandic media is not really paying any attention, the author of this article seriously doubts the truth of every word in Landsvirkjun's public releases.
Höskuldur
http://natturan.is/frettir/1921/