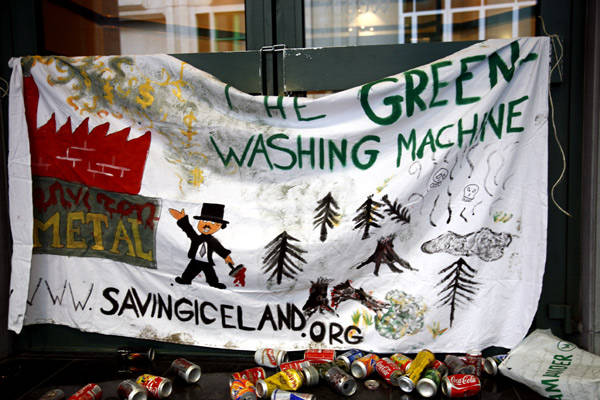 Monday morning at 8:30 Saving Iceland disturbed the opening of the two-day conference Metals: Energy, Emissions and the Environment in Brussels. About twenty activists blocked the conference entrance of the Radisson SAS Royal Hotel with chain locks and aluminium garbage. With this action they protested against Alcoa, Rio Tinto-Alcan and Norsk Hydro, who are using this conference to promote aluminium as a 'sustainable' metal.
Watch the video on Youtube

'Aluminium helps curb energy consumption and greenhouse gas emissions,' claims Lasse Nord (Hydro), one of the conference's panel members. 'Quite the contrary,' says Anneleen Vermeers, a Saving Iceland spokesperson. 'The aluminium companies are trying to greenwash their image, but this industry will always be an energy-intensive one. In order to supply their polluting smelters with that energy, Iceland is damming up all its big rivers. These gigantic dams are environmentally disastrous and contribute directly to global warming, still, that's what they call 'environmentally correct'!'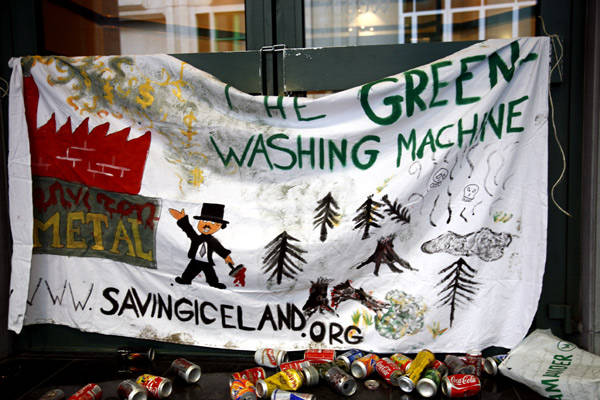 Some activists had also entered the hotel and the conference rooms to distribute brochures. These contained scientific facts and figures of the aluminium industry's emission of CO2 and of other, more damaging greenhouse gasses (which are suppressed in the Kyoto Protocol), as well as toxic elements and heavy metals.
After a while, the hotel staff asked the uninvited guests to leave through the hotels' front entrance. Around 9:15 the conference door was unlocked and cleared. Police threatened the activists whilst they continued to pass out flyers on the street and percussionists played samba music. In the end, however, nobody was arrested.
This action was supported by the Dutch-Belgian Earth First network: GroenFront!