Nine farmers and landowners by Thjorsa River (Þjórsá) have now written a letter to Landsvirkjun, the national energy company, and the Ministries of Finance, Environment and Industry, where they announce that they will not take part in any further discussions about use of their land for a dam in Urridafoss waterfall.
Friðrik Sophusson, the director of Landsvirkjun, responded by saying that discussions would continue and he hoped that the landowners and Landsvirkjun would be able to reach an agreement. Asked about the possibility of using expropriations Sophusson answered that they might be used if the meetings (which the farmers have said will never take place) would not result in an agreement.

This means that all previous meetings and discussions have been pointless for the landowners by Thjórsá. Landsvirkjun is on full course and Sophusson's statement indicates that the dams will be built no matter what.
Þórunn Sveinbjarnardóttir, the Minister of Environment, announced right away that first of all Landsvirkjun does not have any authority to use expropriations and secondly that she is against all plans of using expropriations.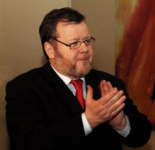 She also reiterated that it is the job of county councils to listen to and take into account the wishes of the local people and their concerns regarding environmental issues, as well as those of others.
However, it has just emerged that the ultimate power to give Landsvirkjun the go ahead for expropriations lies with the Minister of Industry, Ossur Skarphedinsson who is, just like Sveinbjarnardottir, from the Social Democratic Alliance. Skarphedinsson said this winter at a meeting with farmers from the Thjorsa region, that he "would not be able to prevent Landsvirkjun from expropriating their land".
Landsvirkjun tend to act as if they are a law unto themselves, but lets not forget that they are a State owned company.
So yet again we are looking at the governmental energy cat playing with the mice, or is it perhaps the old game of the tough cop and the con cop that this government is playing?
See also: