By Snorri Páll Jónsson Úlfhildarson, originally published in Morgunblaðið
– Erna Indriðadóttir, Alcoa's P.R. manager wrote an article in Morgunblaðið where she intended to answer Björk Guðmundsdóttir's writings about Alcoa. Indriðadóttir's answer is pathetic and a reason to write more articles than this one. But what stands out is her quibble about Alcoa's weapon production and human right abuses. Indriðadóttir reckons that Guðmundsdóttir is talking about the fact that "aluminium is used in almost all vehicles under the sun, incl. fighting jets, space shuttles and missiles." And the whitewash continues when she talks about Alcoa's social responsability and its sustainability projects. 
Using the same words as Indriðadóttir, this has been said before. This same quibble has always been used when Alcoa has been accused of links with the war industry and weapon production. The company's principals here in Iceland repeatedly try to make it look like Alcoa only produces aluminium and sells it, but does not have anything to say about the future life of is produce. This myth should have been destroyed long time ago.
December 14th 2005, a news article appeared on Alocas website, saying that the company had signed a 12,5 million dollars contract with the U.S. millitary, about researching, designing and producing light weight weapons for millitary on land. In August 2004, the news website Allbusiness.com reported about contracts between Alcoa and Howmet Castings (Alcoa's subsidiary) on the one hand and the U.S. government Department of Defence. Alcoa's job was to develop new materials and alloys, which would minimize the cost of producing the next generation of millitary equipment in the air.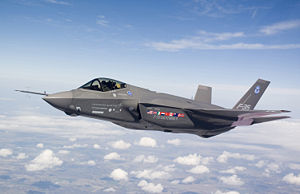 On the website of Washington Post, a news article was published the 12th of October 2007, saying that Alcoa and the weapon producer Lockheed Martin had made a 360 million dollars contract, which included Alcoa's design and production of several parts for the fighter jet F-35 Lightning II, but the U.S. millitary plans to stop using its older machines and go over to using this new murder-machine. About a month later, Alcoa itself stated on its website that a further collaboration would take place between the two companies, this time concerning the prodcution of a new generation of millitary jeeps, which are named Joint Light Tactical Vehicle (JLTV).The article says that Alcoa's part in the projectconcerns material knowledge and design, and that the company's plan is to make the jeeps ligther, faster and stronger – but "Ligther! Faster! Stronger!" is indeed the slogan of Alcoa Defense, Alcoa's millitary and defense section.
In the same article, Alcoa prides itself of its participation in weapon production, which covers a wide range, all the way from the above mentioned fighter jets to the M77 howitzer, which is e.g. used by the U.S. millitary in Afghanistan. On Alcoa Defense's site one can also read about the collaboration between Alcoa, the U.S. millitary and the weapon producer AM General about the production of aluminium for the Humvees war jeeps used in Iraq and Afghanistan. There is says that all Alcoas work hard to accomplish this task, to support the U.S. troops. A press release on the website from January 1st 2007 it says that Alcoa Defense is a proud collaborarator of AM General and provides the endurance, mobility and reliability that the U.S. millitary depends on.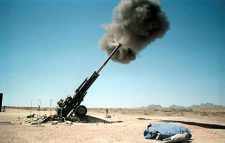 These are only few of enormously many examples of Alcoa's links with wars and are taken directly from the company's website and respected foreign news agencies. The situation is not that easy that Alcoa simply produces aluminium and has nothing to do with its future and usage. Alcoa is a weapon producer! Acoording to the press releases, Alcoa's principals in the United States are extremely proud of these links and therefor it is strange that the Icelandic principals constantly try to deny these facts when the links are mentioned here in Iceland. If their plan is really to try to hide this obvious fact, than it was doomed from the beginning, since it only need the smallest research on the company's own webpage to recognize this disgusting side of the company.
We do not have to listen to these lies and quibbles. We can on our own, find the information we need about authorities and corporations and make up our minds and opinions according to what we find. The white- and greenwash of Endra Indriðadóttir and Alcoa Fjarðarál is a pathetic experiment with the goal of creating a wrong image of the company. Unfortunately for them, it only makes bad become worse.