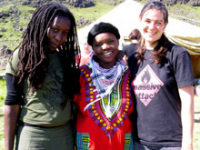 The price of aluminum has risen by more than 35 percent since the beginning of 2008. Aluminium prices hit a record high this week as China, the world's biggest producer, ordered smelters to reduce production because of power shortages. In Africa, electricity prices for consumers skyrocket as ESKOM, Landsvirkjun's South African partner, attempts to free up energy for aluminium. As electricity is redirected to aluminium corporations, people suffer blackouts.
Aluminium rose 7.1 per cent on the week to the all-time record of $3,380 a tonne on Friday July 11. Electricity accounts for about 45 per cent of aluminium smelting costs, so prices jumped when it emerged that more Chinese provinces had started to ration power supplies. The latest, Shaanxi, began limiting supplies as power stations ran short of coal. Glitnir Bank has issued a report explaining that the high price of aluminum is caused by, on the one hand, shortage of electricity, especially in China, and on the other, rising oil prices.
So the aluminium price is up due to both an increase in demand and a shortage of supply in the raw materials and energy required for aluminium production. "As aluminium companies struggle to find enough electricity, they circle over Iceland as a group of vultures. Are we going to allow Iceland to be turned into a heavy industry corpse for them to consume?" asks Saving Iceland's Miriam Rose.
The tightening of the aluminium market has grim effects around the world. ESKOM, a parter of Landvirkjun (1) and largest power company in Africa, are pricing up supply to domestic consumers and confronting them with chronic blackouts, in order to free up energy for smelters.
"The solutions for the short-term to try and bring some peak load on gas, turbines, and oil or diesel will help, but the internal consumption of South Africa continues to go up, so the minimum that Eskom, the national provider is set is a 10% reduction. But it hasn't guaranteed that and will have ongoing blackouts or reductions, as it goes forward. So it's imposing that. The second part, which it's trying to impose, is obviously price on the domestic users particularly, and that of course is not doing too well," says Logan Kruger, President and CEO of Century Aluminum in a recent phone conference (2).
"It's not only impacting South Africa […] but it's impacting Botswana, Zimbabwe, and even to Zambia," says Kruger.
Rio Tinto Alcan also takes an interest in Africa. Alcan was active in apartheid South Africa between 1949-1986 (3). Now they want to come back and develop a new smelter in the near zero-tax 'Coega Development Zone' near Port Elizabeth, powered by coal and nuclear delivered by Eskom, one of the worlds largest electricity companies. "Thirty percent of the poor communities of South Africa don't have electricity, and now that will be going straight to Alcan," says Lerato Maregele, a S-African activist visiting Iceland (4).
Landsvirkun want to be part of this deal and more generally branch out to Africa (1).
Landsvirkjun can be expected to try and sell their expertise to Eskom's various hydroprojects in Mozambiqu, Uganda and Congo (5). They will try to be part of damming the Congo river, a project twice the size of China's Three Gorges, that will have a devastating effect on the central African rainforest.
References
1. RUV News, 26-02-2007, http://ruv.is/heim/frettir/frett/store64…. Note that RUV has Alcoa and Alcan confused.
2. Century Aluminum Company, Transcript of First Quarter 2008 Earnings Conference Call [Accessed July 13].
3. Alcan't website, http://www.alcant.co.za/history.html [Accessed July 13]
4. Grapevine, Issue 10, July 13, 2007. Interview also online.
5. International Rivers Network & EarthLife Africa, "Eskom's Expanding Empire
The Social and Ecological Footprint of Africa's Largest Power Utility," June 2007.
Other Sources