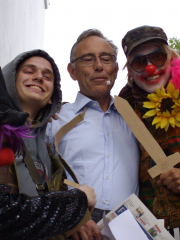 PROTESTS AGAINST LANDSVIRKJUN'S PLANNED DAMS IN ÞJÓRSÁ RIVER AND THE CONNECTION BETWEEN LANDSVIRKJUN AND ALCOA
REYKJAVÍK  – Today 30 activists from the international campaign Saving Iceland have invaded the Landsvirkjun (national power company) building (Háaleitisbraut 68) to disrupt work. Earlier this morning Saving Iceland activists dammed the house of Landsvirkjun director Friðrik Sophusson and nailed an eviction notice to his door.
"We oppose Landsvirkjun's intentions to build the four Þjórsá and Tungnaá dams for Rio Tinto at Straumsvik (1,2), despite the referendum. They are also negotiating to dam Skjálfandafljót and Jökuslá á Fjöllum for ALCOA's planned Bakki smelter (3,4). This is on top of the mess they are making of Þeistareykir (5) and the deep drilling into Mount Krafla, right next to the tourist attraction. LV are doing this for a company that is a self-admitted arms dealer (6) and has been in the news again and again for it's gross abuse of human rights. (7) This company should not be welcomed by Landsvirkjun," says Jaap Krater from Saving Iceland.
Extreme abuse of workers' rights
ALCOA claims to be an excellent employer, taking good care of their workers. But the reality is different:
"Often workers have to urinate, or even defecate, in their clothing after repeatedly being denied permission to use the bathroom. The bathrooms are also dirty, lacking lights and toilet paper. Workers who take "too long" may be pulled from the toilet by guards. There have even been cases of women being made to disrobe and lower their underpants to prove they were having their period so they could use the bathroom more than twice a day," says a recent report about Alcoa's treatment of workers in Honduras (7).
"With as little as ten minutes notice, workers on the night shift can be ordered to remain working for another six hours, keeping them at the factory from 4:15 p.m. to 6:00 a.m. – nearly 14 hours. All overtime is obligatory and those who object can be fired."
"The base wage of 74 cents an hour at Alcoa's plants meets just 37 percent of a small family's most basic survival needs."
Workers have protested, but Alcoa does not encourage unionising. "Alcoa will use slightly veiled death threats, mass illegal firings, blacklists and threats to close the plant to block workers daring to exercise their legal right to organize," says the report.
In Mexican factories, a range of human rights and worker abuse has also been reported (8). Ironically, Alcoa are now laying off 1240 workers in Honduras and Mexico as a response to decreased demand for aluminium for large cars due to high fuel prices (9).
ALCOA and the Arms Industry
Alcoa actively supports the US military ventures, such as the war in Iraq. "Alcoa Defense is proud to be a trusted partner for the U.S. military and defense industry." said Dave Dobson, president, Alcoa Defense. "We look forward to protecting soldiers with our armor plate, while making vehicles lighter, faster and stronger." (10).
"All Alcoans are working hard to ensure that these orders move quickly through the plant in order to support our troops," said Mark Vrablec, director of manufacturing at Alcoa Davenport Works (11).
Other recent examples of Alcoa products for the US military include combat ships (12) and light tactical armed vehicles (13).
"Basically, electricity from the power plants Landsvirkjun is intending to build, will be exported straight to Iraq and Afghanistan in the form of Alcoa weaponry," says Saving Iceland's Jaap Krater.
About Saving Iceland
Last Saturday, Saving Iceland stopped work at the construction site of Century Aluminum's planned new smelter in Helguvík while on Monday they blockaded the existing Century smelter on Hvalfjordur. This is part of their fourth summer of direct action against heavy industry in Iceland.
Saving Iceland was started by Icelandic environmentalists asking for help to protect the Icelandic wilderness, the largest remaining in Europe, from heavy industry. Aluminium corporations Alcoa, Century Aluminum and Rio Tinto-Alcan want to construct new smelters. This would require exploitation of all the geothermal areas in the country, as well as damming all major glacial rivers (see https://www.savingiceland.org/sos).
This year, the fourth action camp to protect Icelandic nature has been set up near the Hellisheidi geothermal plant east of Reykjavik. That power plant is currently being expanded to produce electricity for Century Aluminum.
More information
https://www.savingiceland.org
savingiceland@riseup.net

References
(1) Landsvirkjun (2008). Alcan and Landsvirkjun reach agreement on electricity price. http://www.landsvirkjun.com/EN/article.a…
(2) Iceland Review (2008). Trial Delays Hydropower Projects in Iceland. http://www.icelandreview.com/icelandrevi…
(3) Visir.is (2008). Ný virkjun á stærð við Kárahnjúkavirkjun. http://visir.is/article/20080718/FRETTIR…
(4) Visir.is (2008). Enn stærra álver á Bakka hugnast Ingibjörgu ekki. http://visir.is/article/20080722/FRETTIR…
(5) Saving Iceland (2008). Energy companies destroying Þeistareykir. https://www.savingiceland.org/?p=1317
(6) ALCOA Defense website. http://www.alcoa.com/defense/en/capabili…
(7) National Labor Committee with Community Comunication Honduras (2007). The Walmart-ization of Alcoa. http://www.nlcnet.org/article.php?id=447.
(8) Comité Fronterizo de Obreras (2008). Alcoa in México. http://www.cfomaquiladoras.org/english%2…
(9) Reuters (2008). Alcoa Inc.'s Alcoa Electrical And Electronic Systems To Restructure Honduran And Mexican Operations. http://www.reuters.com/finance/industrie…
(10) Alunet International (2008). Alcoa to Supply Armor Plate for New Army Vehicle http://www.alunet.net/shownews.asp?ID=23…
(11) ALCOA (2008). Alcoa Provides Aluminum for Humvees Used In Iraq. http://www.alcoa.com/defense/en/news/rel…
(12) Cavas, C. (2007). Alcoa Joins U.S. Navy LCS Program. Defense News 10/10/2007. Cfr. http://www.alcoa.com/defense/en/news/rel…
(13) ALCOA (2008). Lockheed Martin Announces Alcoa As Principal Team Member To Compete For Joint Light Tactical Vehicle Program.http://www.alcoa.com/global/en/news/whats_new/2007/jltv_program.asp.