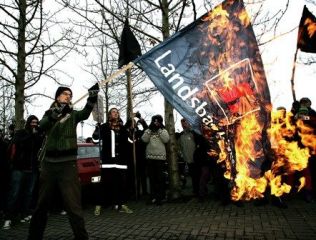 Haukur Már Helgason,
Il Manifesto (Italian daily)
– Last April, the government published a report about "Iceland's image", written by a committee of leading business people in Iceland. The report summarizes Iceland's history thus: "For a long time, the nation lived through hardships, but once it achieved freedom and independence it took a leap from being a developing country to becoming one of the richest nations in the world, in less than a century."
This October, the only growing business sector in Iceland is body guards. It's booming. For the first time in Iceland's history, the heads of state, politicians and stock exchange "entrepreneurs" are surrounded by professional muscle-men. After six to ten years of private ownership, and constant staggering growth, all three major banks in Iceland collapsed in a week, unable to pay their debts. Economically they had become 10 times bigger than Iceland itself. The state, led by the Central bank re-nationalized all three of them, one by one.
Parliament agreed on emergency law giving the state total control of the financial sector, and the government is seeking madly for foreign loans to compensate for money that seems to have simply vanished. Some of that money came from British and Dutch savers, who had put money on high-rate Icesave internet accounts since 2006, in a scheme that bank manager Sigurjón Árnason called ingenious, in an interview: "The only thing I have to do is look each day and see how much money came in," he says laughing, according to the journalist, picks up the phone and a moment later says: "50 million pounds came in, just last Friday!" Easy come, easy go. When Central bank manager Davíð Oddsson and Financial minister (otherwise professional veteranarian) Árni Mathiesen declared, after nationalizing the bank responsible, that Iceland would not pay these debts – or might perhaps pay some of it, which was Mathiesen's version – the UK applied anti-terrorist law to freeze the bank's assets in Britain. Iceland is shocked: "But … can't you see we're white!?" The level of absurdity grows as the rate of our local Króna keeps falling. If the króna now seems to be worth half of what it was eight months ago, that is only because the central bank has manually fixed its rate. In actuality it's worth nothing. Market experts use the technical phrase "poisonous" to describe the currency: no one will touch it. 24% inflation: This is now the state of a neoliberalized country, that until April considered itself one of the most affluent places on earth.
"This is not nationalization" poker-face prime minister Geir H. Haarde urgently explained as he nationalized the first of the big three. Of course, on the surface of it, these words were a blatant lie. But underneath something is to be understood: Even if the state is now throwing endless billions into this bottomless hole, buying back recently privatized institutions, do not be fooled: the government has not changed its policy and has not intention of acting for the benefit of the people, these measures are merely taken to save those who have money, and will probably just tighten the snare for the rest of you. Robert Aliber, professor emeritus of economics at the University of Chicago, publicly claims that the situation could not be handled worse if ministers were picked arbitrarily from the phone book. That probably depends on what the government's aims and interestes are.
The Icelandic system of forced labor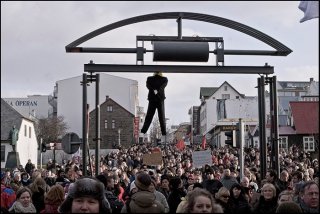 The average Icelander owes € 30.000 to loan-institutions. Home-ownership is the rule rather than an exception, and people borrow money to buy their apartments – but young people also borrow money to attend university, to buy a car, to travel. Debtlines extending from foreign investors and international banks, extend down into the cradle, keeping this bizarre country together in an intrinsic web of debt. Because the place has its own local currency, the beforementioned króna, there is not much difference between this system of debt and socalled "truck systems", where a laborer buys goods from the same company he works for. While his work and his consumption are noted in a single book of debet and credit, the worker sees little or no "real" money for his work. Young people, who took big loans to pay for overpriced apartments in an inflated market, find themselves stuck in these apartments, impossible to sell in a collapsed real estate market, while – and phew! get this: the loans are connected to consumer price index, so that in times of inflation your debt grows in proportion to the rise in prices. In the last months, people's mortgages have grown: they literally owe more money to the bank, the more they pay. I don't know if English even has a word for such a system, but the local term literally means price-insurance. These people sure think ahead.

Until now this intricate system has led to a very stressful society where a bag of worries hangs over people, and where everyone is always running late, because they've never done just enough work today, this week, this month, to pay all the bills at the end of the month, and if they're late, staggering default interests will hit them sooner or later. Add negativity and financial trouble as social taboos, something never to be spoken about, new-age spiritualist escapism, and a world-record consumption of anti-depressive medicine, and that's how things normally run in Iceland: where monopoly-money cover up the underlying fact that everything in the country is owned and run by 14 families, the families with family names. If the economic reality described above sounds unfair beyond belief, just wait: the Icelandic public is not allowed, by law, to have family names. Only 14 families of old aristocracy have last names, the rest of us bear our father's first name in the old heathen way: Haukur, the son of Helgi and Bryndís, the daughter of Björgvin, the son of Sigurður. In short: Iceland is a ruthlessly classist society. And now, this system will either fall apart at the joints as it will simply exhaust people's capabilities to keep up – or worse still, it might find just the correct, violent, systematic balance of maximizing the gains squeezed out of every living body in the country, to the very last drop. The infamous "invisible hand" of the market sure knows how to squeeze.

The Secret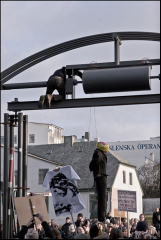 300 thousand people supposedly don't suffice to support a floating currency on international markets. 300 thousand people, most of which work far too long hours to take part in politics are also less than enough to support a language for a globalized globe. Icelandic is far too easily manipulated by stronger forces. A bank doesn't even have to deliberately attack it, but only accidentally bump its rear end into it, and suddenly a whole nation is incapable of thinking outside financial metaphors. To be fair, the average Icelander's finance language skills are impressive – the most hippyish high school students can convincingly discuss currency rates and debate the benefits of short-selling. But for any other purposes my language has become as invalid as the currency in my pocket. And much for the same reason: That there has been no time for crticism, no space for negativity.

"The ever-present danger of perishing would not permit of a language restricted to gesture. And, the first words among them were not love me, but help me." So said Rousseau, on the origin of language in the North. Admittedly, there is no Icelandic word for gesture, which goes a long way to explain awkward occurances in foreign relations. More words, however, are lacking. Hegemony. Structure – the concept has been translated, but the Icelandic equivalent feels too artificial to ever come out naturally.

And then there's strategy, another untranslated concept. The republic of Iceland declared independence from Denmark in 1944, two years into a US occupation that would last over 60 years. The US army made us rich, during "the blessed war" as older people remember it – and then they stayed while the mid-atlantic rock was strategically important. That is, until 2006, when the Bush administration had thought up some better things to do with two fighter-jets. Their receptionist called our minister to say goodbye and thanks for all the fish and then they left. Whereas the US dollar is supported by the threat of military intervention and lots of people, the Icelandic króna is mostly supported by cod. After the army left, it took a while for the local economy – and politics – to realize there is no ground beneath our feet, anymore. In this epic narrative, which might serve just as well as material for a Marquez as for a deLillo, the most shocking moment for Icelandic authorities may have come just a moment before the collapse of the banks. At the end of September, the US Federal Reserve announced it would assist the central banks in Sweden, Norway and Denmark with a currency exchange deal – but not Iceland. As the Nordic countries, at least on the level of aristocratic authority, very much see themselves as one community, the signal was quite unambiguous: sink, Iceland, sink. The country's first response was to take offense, and Central Bank manager Davíð Oddsson declared Russia would lend Iceland the money it needed. Russia did not agree. Sure enough Iceland is sinking, but the movement accords to the physical laws of cartoons, where a character runs off a cliff but then stops in midair: only when he looks down and realizes that he stands on nothing – or even: only when he admits this realization with an explicit gesture – does he fall. Symptomatically, for the last two years, positive news have proliferated in Iceland – since last february there has been constant sunshine and cute animal pictures on the covers of Iceland's most prestigious newspapers. All three newspapers in Iceland are pro-market right wing. Two of them are currently merging into a company which is between billionaires, sort of. Until last month, the conservative newspaper Morgunblaðið belonged to Björgólfur Gudmundsson, the biggest owner of Landsbanki and the Icesaveaccounts in Europe, an avid supporter of the ruling party in government, the most flamboyant of the country's bank-owners, and the most popular according to a poll done last year, by the rival newspaper Fréttablaðið: "Who's the best billionaire in Iceland?". Fréttablaðið, on the other hand, belonged to the main shareholders in Glitnir bank, founders of Baugur Group, and more or less the owners of retail business in Iceland. The newspapers seem to be merging, changing hands in the process, faster than their journalists can keep up with, but nevermind, they have some good news to tell: On Monday, Oct 27, the center of the front page of Morgunblaðið portrayed a photograph of a snowy mountain, some sheep and a man on a horse. The back page sported a large picture of flowers and birds. Four days after inhabitants on the rock formerly known as Iceland, asked the IMF for help, in snowy October. The photographers have had to look really hard for convincing birds and flowers. The editors must be really demanding.

Revolution? We?
There is such a thing as collective guilt. I am guilty, by association with this tribe, of having participated in casino-capitalism, while most people believed they were at the right side of the great divide. That they had some natural gift for slot machines and poker. When the divide now moves, with the shattering impact of an earthquake, and many of those who thought they had, turn out not to have – many of those who thought they were in the game, turn out to have been fooled, I am not only sad to see us fooled, gagged and bound, forced to labour. It is saddening too, that most of these people, most of us, were not disturbed by injustice as such. Not disturbed by the game, but merely by loosing. This means that I have no sense of justice, but only of advantage and disadvantage. Cruelty does not bother me. That is why Iceland is not merely hurting, but grieving. We had the chance to be decent people, and were not. Not at all.
And it goes on. By association, I have no sense of shame, either. Someone just started the most stupid campaign, opening up a website where offended Icelanders send in photos of themselves in their homes, holding a piece of paper with the words "Do I look like a terrorist?" written on. The underlying question is the same as caused Prime Minister Haarde's absolute idignation and bewilderment, when UK's Gordon Brown used anti-terrorist measures to freeze an Icelandic bank's assets in the UK: "Don't you see I'm white?"
At the same time, there is an enormous sense of relief. After a claustrophobic decade of general nitwit agreement on a consumerist model of man and the benefits of free markets, now anger and resent are possible again. It's official: Capitalism is monstrous. Try uttering a phrase about the benefits of free markets and you may be treated like someone speaking about the benefits of systematic rape. This honest spirit of resent is possible now which opens up hope, that one day language might repossess some critical capabilities, it could even describe social realities again.
This winter will be a prolonged breathless moment in Iceland. As the IMF is already here, the whole country could go the way Naomi Klein describes in The Shock Doctrine. I am fully aware that even if I got my speech back, words do not worry capital that much, and the strongest forces currently at work in my country certainly are not socialist. At this moment of crisis there will be great urge to seize the opportunity, this sense of urgency, and convince – if not the public then at least any remaining decent people in politics – that the voices of environmentalists, feminists and socialists now must be ignored, that the only solution to the crisis is to capitalize what's still left of public services in the country: education, health. Water, energy sources – that now is the time to give the invisible hand of capitalism the freedom to squeeze what's left, squeeze the rivers, squeeze the people, squeeze real hard. Perhaps, finally nothing stands in the way of complete neoliberal victory. Perhaps it's the end of history, not in a liberal-democratic utopia, but capitalismo puro, a capitalism that does not even need any references to freedom, capitalism as mere fact.
The other alternative seems to be some sort of revolution – that one way or other democracy will be actualized in the face of the so-called democratic processes, within which the government has no incentive to share any information about its intentions with the people who elected it, let alone share power with them, in the face of crisis. Already, these events are revolutionary in measure.
Haukur Már Helgason is an Icelandic philosopher and author