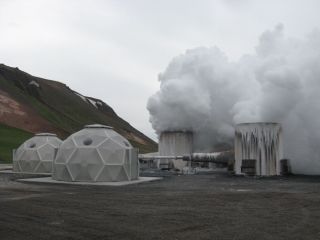 Þeistareykir ehf. and Landsvirkjun (Iceland's national energy company) have now started discussions with the Norwegian aluminium producer Norsk Hydro about the purchase of geothermal energy from Þingeyjasýsla, north Iceland. The energy was supposed to run Alcoa's planned aluminium smelter in Bakki, Húsavík.
The memorandum of understanding between Þeistareykir, Landsvirkjun and Alcoa because of the aluminium smelter in Bakki, ran out on November 1st 2008 and was not renewed. One of the reasons was said to be the uncertainty on the Icelandic financial markets. Tómas Már Sigurðsson, Alcoa's director in Iceland, says that decisions about electricity purchase depends on the market situation and hopes that it will get better in the next 12 months.
Þeistareykir and Landsvirkjun have now started discussions with two companies who want to buy the geothermal energy that was meant for Alcoa. The companies are Stokkur Energy, which has shown interest in building a silicone factory in Þingeyjasýsla, and the Norwegian aluminium producer Norsk Hydro. Originally Norsk Hydro wanted to build an aluminium smelter in Reyðarfjörður (east Iceland), to be run on hydro energy from the massive and heavily criticized Kárahnjúkar dam in the east highlands. The company backed out and Aloca came took over the project.
Þeistareykir and Landsvirkjun have already started constructing for the building of several geothermal power plants in the north east of Iceland, around lake Mývatn, in Þeistareykir, Gjástykki and Krafla. Last year Þórunn Sveinbjarnardóttir, the former minister of environment, announced that the power plants would have to go through a joint environmental impact assessment (EIA) along with Aloca's planned aluminium smelter and the energy transportation. Sveinbjarnardóttir war heavily criticized by environmentalists for not including possible mega dams in the glacial rivers Skjálfandafljót and Jökulsá á Fjöllum, in the EIA, stating that the geothermal energy would not be enough to run a medium sized aluminium smelter.
Will a new "red-green" government put an end to heavy industry in Iceland?
At this moment Samfylkingin (social democrats) and Vinstri Grænir (VG, the left greens) are forming a new government here in Iceland, after the recent collapse of the Icelandic government. The collapsed government consisted of Samfylkingin and Sjálfstæðisflokkurinn (right wing conservatives), but the latter party is mostly responsible for the development of the aluminium industry here in Iceland.
VG has from the birth of the party in 1999, spoken against the aluminum industry and the construction of mega dams, the destruction of glacial rivers and geothermal fields. It will be interesting to see if the party keeps it's environmental policy unchanged when finally in government, or if the collaboration with the populists in Samfylkingin demands that VG will have to make expensive compromises?