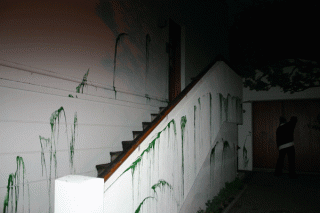 This afternoon, Saving Iceland received a letter and photos from a group titled A.S.Ö. According to the letter the group targeted the house of Friðrik Sophusson, the director of Landsvirkjun (Iceland's national energy company) with paint and glue. The letter is here in full length:
We want our lives back. Our freedom. Our wilderness.

We decide not to delegate to others what we believe is necessary to be done. We take the responsibility of our acts against those who are destroying and poisoning the Earth.

Thinking that someone else than you will act or that nothing can be changed, is still a choice that has consequences. We can choose between oiling the destructive machine of this society or to be the sand that blocks it!

The individual responsibility is the reason why we hit personally those who are at the head of capitalistic companies as Landsvirkjun. In the name of money and power, Landsvirkjun has actively destroyed the Icelandic wilderness. Company's director does not change personality between his work and home. He stays the same. He is as responsible on both sides.

In the night of July 27th, we went to the house of Friðrik Sophusson, the director of Landsvirkjun. We blocked his doors with glue and threw green paint all over the walls.

Never forget that the night is on our side!

A.S.Ö.