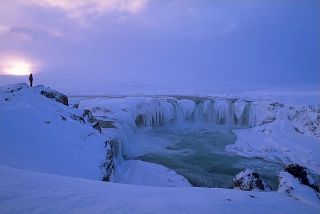 November 25th, the joint Environmental Impact Assessment (EIA) on Alcoa's planned 346 thousand ton aluminum smelter at Bakki, Húsavík, was finally published. In response, Iceland's National Planning Agency released an extremely critical commentary regarding the planned smelter and the geothermal plants that are supposed to power it.
It states that:
– Environmental impacts of the project are high and cannot be mitigated.
– 17,000 ha of untouched wilderness will be affected
– Greenhouse gas emissions of the project would constitute 14% of Iceland's total.
– There is a high amount of uncertainty regarding the full impact of the planned geothermal power plants and particularly their impact of the geothermal energy resource base.
– The assessed energy projects are not sufficient to power the smelter, with 140 MW of capacity missing.
"These reports confirms three key elements of critique that Saving Iceland voiced now several years ago," says Jaap Krater, a spokesperson for Saving Iceland.
"The first is that the environmental impact of the drilling in the north would be much greater than Alcoa claimed."
"Secondly, when the joint impact assessment was announced we insisted that possible dams in Skjalfandafljot, Jökulsá Eystri, Jökulsá Vestri (both in the Skagafjörður region) and Jökulsá á Fjöllum should be assessed for environmental impact. Now our calculations that the northern geothermal fields will not produce enough energy for the smelter are proving correct."
"Thirdly, we have said that carbon emissions from the projects would be extremely high and would make it very difficult for Iceland to meet its international obligations. This is also confirmed," explains Krater.
"If Iceland wishes to become an EU member, then this impact assessment will surely be the kiss of death for the Alcoa Bakki project.
Saving Iceland's energy calculations were reported in Morgunblaðið in August 2008 (1), while the greenhouse gas issues were published in a recent international book publication (2).
References
(1) Bakki Impact Assessment Should Include Dams, by Jaap Krater, Morgunbladid, August 22nd 2008, in Icelandic here and English here.
(2) Development of Iceland's geothermal energy potential for aluminium production – a critical analysis, by Jaap Krater and Miriam Rose, In: Abrahamsky, K. (ed.) (2010) Sparking a World-wide Energy Revolution: Social Struggles in the Transition to a Post-Petrol World. AK Press, Edinburgh. p. 319-333. Also published on Saving Iceland's website here.