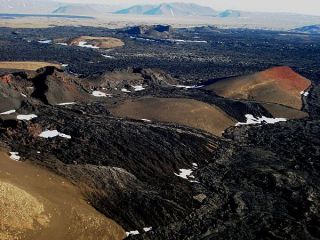 Landsvirkjun, the national power company, will not use the permit for experimental drilling in the Gjástykki area in northeast Iceland issued by the National Energy Authority on Monday but rather await the government's plan for the area.
Gjástykki is a rift valley north of the caldera Krafla and the potential harnessing of energy there is controversial. Environmentalist Ómar Ragnarsson is making a documentary about the area. To paper over their highly destructive drills in other geothermal areas in north Iceland the Landsvirkjun PR department helped finance the documentary.
According to Fréttabladid, the Energy Authority's permit does not authorize Landsvirkjun to harness geothermal energy in the area, only to investigate its feasibility.
The research permit caused controversy as it was issued in spite of opposition from the Environment Agency of Iceland and the Icelandic Institute of Natural History. The government is also planning to preserve the area.
However, the Energy Authority's decision is supported by municipalities and landowners in the region.
Minister of Industry Katrín Júlíusdóttir said the permit won't change the government's plans. "It is absolutely clear that this government has been in agreement in launching a preservation process for Gjástykki. That process has started and we stand by it."
Ragna Sara Jónsdóttir, head of Landsvirkjun's communications division, said drilling won't begin before the government's policy is clear. "Landsvirkjun will not commence experimental drilling until a conclusion has been reached regarding framework regulations and nature protection of the area," she iterated.
Landsvirkjun has been looking into the feasibility of energy harnessing in four areas in the Thingeyjarsýsla counties in northeast Iceland, among other reasons to power an aluminum smelter at Bakki by Húsavík, Gjástykki being one of them. The other three are Theistareykir, Krafla and Bjarnarflag.