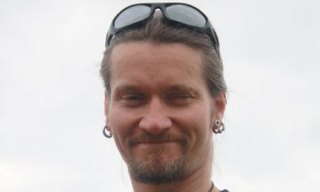 The Saving Iceland collective is at the moment inundated with requests  from the corporate media for detailed information about the infiltration of our network by police spy Mark Kennedy . We have also been receiving pressure from individuals who have been active with SI to collaborate with journalists.
Saving Iceland would like to make it clear that we are mindful about keeping our vow to respect and protect the privacy of all the great people who have taken part in our struggle against the corporate destruction of Icelandic nature.
By entering into discussions with journalists on matters outside the sphere of the issues of our struggle, such as the private lives of individuals in our network, we would be in serious breach of the trust and solidarity that has been the core of our network.
Below is a statement Saving Iceland released to the Guardian on 13 January 2011. This is the only platform that we are prepared to discuss Mark Kennedy's time with Saving Iceland.
Regrettably we are not prepared to participate in an interview about the police spy Mark Kennedy. However, we would like to make the following statement:
Yes, Mark Kennedy came to Iceland in the summer of 2005 and took part in actions against ALCOA and the dams at Karahnjukar.
His case is a clear example about how low governments are prepared to stoop to, in this case the British and Icelandic, in their attempts to criminalize people who use their right to protest and who challenge the abuses of power by the State and corporations.
What we find interesting in this context is whether the Icelandic police were made aware by the British authorities of the presence of this British police spy in the Saving Iceland camp and if they received any of the information gathered by him while he was active as an agent.
So far the Icelandic State police have not answered the request of the Icelandic National Broadcasting about whether they communicated with Mark Kennedy and his superiors. Only the local police force in the east, where the dams and ALCOA factory are located, have issued an evasive answer stating that they had not "intervened" with the "protester" Mark Stone during the protests.
It is also interesting whether Mark Kennedy took part in the training of Icelandic police officers when they attended a course with the British police in the winter of 2005-2006 where they received training in how to violate groups such as Saving Iceland.
Clearly the presence of Mark Kennedy in Icelandic jurisdiction, as an active agent of the British police, violated Icelandic and international laws, even if there was an official collaboration between the two authorities in this respect.
In either case the one or both governments are guilty of violating basic human rights of the people they were spying on.
The Saving Iceland Collective.