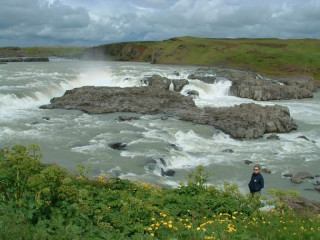 The following statement was unanimously agreed upon on by a well attended open meeting against the planned dams in Þjórsá river, held in Reykjavík on March 2nd 2011, organized by young locals.
Due to the fact that the Ministry of Environment has now certified the land-use plan of Flóahreppur and Skeiða- og Gnúpverjahreppur municipalities, allowing for the construction of three dams by Urriðafoss, Hvammur and Holt, the environmentalist organization Sól á Suðurlandi (Sun in the South) challenges the government to state officially that no dams will be built in the lower Þjórsá river, against the peoples wishes.
Sól á Suðurlandi wants the plans for dams in Þjórsá to be finally discounted, to end the split and uncertainty that have predominated our societies for many years. It is important to decide in a profound way that these constructions will not take place. Thereby a reconciliation would be made in our societies and both grassy farmsteads and wild nature spared.
It is worth pointing out that Landsvirkjun [national energy company] has still not attained contracts with all the landowners that will undergo disruption it the construction takes place. The lands of these people might be taken with expropriation, following with appropriate economical and emotional damage. Sól á Suðurlandi declares full solidarity and support with the landowners that still have not negotiated with Landsvirkjun. Furthermore, the organization understands the situation of landowners who have already negotiated, as many of them were met with hard conditions by Landsvirkjun. We condemn Landsvirkjun's methods of work, as the company deliberately prevented solidarity amongst landowners by the use of collusion. Sól á Suðurlandi also declares its worries about the powers of developers in the making of land-use plans in such small municipalities, and asks for clear laws about how the costs will be paid in the future.
If dams will be built in lower Þjórsá our societies will undergo serious disruption during the time of construction. The economy of many of the locals will be left in confusion, either temporarily or for the future. The flowering development of agriculture and tourism will be endangered, not to mention that it is unclear if the construction will create any jobs at all. Beyond this disruption are the uncounted effects of dams in lower Þjórsá on the natural conditions and biosphere around the river.
Due to these social, economical and ecological factors, Sól á Suðurlandi asks the government to publish a conclusive statement where dams in lower Þjórsá are rejected.
____________________________________________________________________________

To read the most recent update on the situation around the Þjórsá dams, click here.