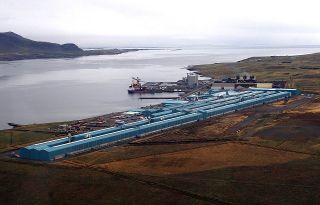 For the last two years, a horse-farmer close to the Norðurál/Century aluminium smelter in Grundartangi, Hvalfjörður, has tried to get supervisory bodies to investigate mysterious sickness, which her horses suffer from. According to recent studies, a great amount of fluoride has been found in the bones of horses close to Grundartangi, much more than in horses in the north of Iceland. In an interview with RÚV (Iceland's state-owned TV station) last week, the farmer, Ragnheiður Þorgrímsdóttir, said that since June 2007, one horse after another has become sick; their movements are stiff and their hoofs seem to grow unnaturally.
In April 2009, Þorgrímsdóttir requested an official investigation into this sickness but when interviewed by RÚV, she had yet not had any answers, nor has the local municipality shown interest in the case. Þorgrímsdóttir is sure that the sickness can be traced to the heavy industry in Hvalfjörður, where in addition to Norðurál's aluminium smelter there is an Elkem iron-blending factory just beside the smelter.
Only one day after the above-mentioned interview, Iceland's Environmental Agency announced that they had no intention to research the reasons for the sickness in horses around the heavy-industry zone in Hvalfjörður. The agency argues that after reading through reports and other documents concerning pollution-inspection in Grundartangi, it is clear that fluoride pollution from Norðurál's smelter has been within the allowed boundaries.
At the same time, measurements from 2010 show that the amount of fluoride in sheep in Hvalfjörður is considerably above guideline limits. According to the measurements' results, the origin of fluoride is mostly from the aluminium smelter in Grundartangi, manifested in an increased amount of fluoride since production started in the smelter.
Shortly after the news about the fluoride and the horse-farmer, RÚV reported in their evening news that a silicon metal blending company has applied for land beside the smelter and iron blending factory in Grundartangi. The planned factory is to rival the Elkem iron blending factory in size.
See also:
Believes Aluminium Plant is Poisoning Sheep
More Industry in Hvalfjordur Brings More Abuse of Power
Pollution from Smelters Damages Teeth in Sheep
Elkem's Icelandic Alloys Year Round "Human Errors"